27 April, 2015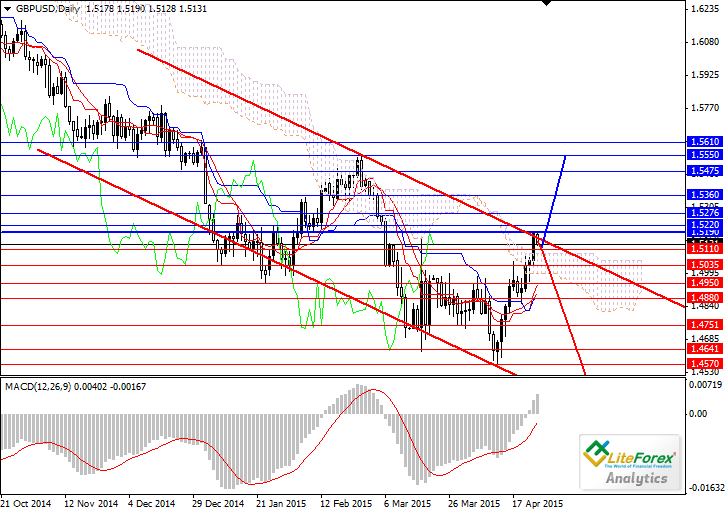 Current trend
Last week, the British currency significantly strengthened against the USD. The Pound rose despite the lack of positive macro-economic statistics. British retail sales data, released on Thursday, was worse than expected; however the pair continued to go up. The main growth factor for the pair GBP/USD was weakening in the USD amid negative key indices on labor market and construction sector. Strong data on orders for durable goods released on Friday could not provide strong support for the USD.
Although today's economic calendar does not contain important UK and US news, the Pound has been strengthening since morning, reaching the level of 1.5180.
On Tuesday, the British preliminary GDP for Q1 will become known. It is expected that the index will grow; however it is not clear if the price will be able to break down the key level of 1.5190. GDP of the USA will also be known this week, as well as the decision of the US Fed on interest rates. Negative data on the American statistics can put additional pressure on the USD and in such case the level of 1.5550 will become unattainable.
Support and resistance
Despite sharp rise in the pair GBP/USD downtrend continues. Nevertheless, breakdown of the local highs and key resistance level of 1.5190, trend can reverse and in this case the "bulls" will have new targets of the levels of 1.5360, 1.5550 and 1.5610.
Support levels: 1.5110, 1.5035, 1.4950, 1.4880, 1.4750, 1.4640 and 1.4570.
Resistance levels: 1.5190, 1.5220, 1.5275, 1.5360, 1.5475, 1.5550 and 1.5610.
Trading tips
In the current situation it makes sense to open short positions on the trend from the key resistance level and upper limit of the ascending channel with take profit at .4750 and 1.4570. Short stop-loss can be placed above the level of 1.5190. Alternative scenario can take place in case of breakdown of the current local highs of 1.5190, and movement of the price to the new peaks. In this case it is advisable to place pending buy orders above the level of 1.5200 and take profit at the level of 1.5550.
LiteForex Investment Limited Analytics
---
---