May 5, 2015
---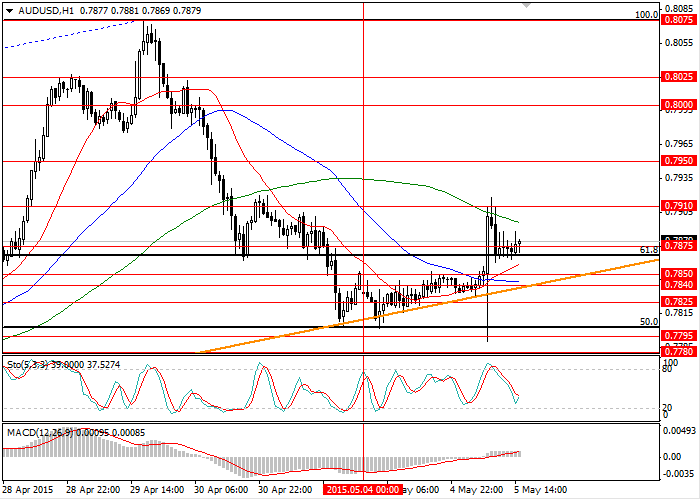 Current trend
Last week, volatility in the pair AUD/USD was high. At the beginning of the week the pair had grown and reached the level of 0.8075. However, the pair failed to break through the resistance level, and it gave the "bears" a chance to quickly win back lost positions. After that the USD has been growing and by the end of the week the price reached the level of 0.7875. It became known today that the Bank of Australia has decreased interest rate to 2.0%. Market's reaction to this news was ambiguous. At first the price went down to the level of 0.779; however, later it rose up to 0.7910.
Following the minor correction the pair has consolidated above the level of 0.7875, which coincides with Fibonacci retracement of 61.8%. It is also a strong support level. The "bulls" will try to maintain existing pace and will make an attempt to push the price higher up to the level of 0.7910. The "bears" will aim at breaking down and consolidation above the level of 0.7875.
Support and resistance
Resistance levels: 0.7910, 0.7950 and 0.8000.
Support levels: 0.7875, 0.7850, 0.7840 and 0.7825. The level of 0.7875 is the key level of the "bears".
Trading tips
Short positions can be opened below the level of 0.7865 and from the level of 0.7950. Buy positions are recommended if the price breaks down the level of 0.7960.
Publication source
---
LiteForex information
LiteForex reviews
September 23, 2016
The market is in need of a new narrative. The Fed meeting in December is too far off and for now, the US election is not something that entices excitement. With central banks on hold, markets are pushing the envelope in terms of risk...
---
September 23, 2016
On Friday, the evergreen buck regained some ground against other key currencies, as markets kept digesting the Fed's latest policy decision...
---
September 23, 2016
The US Dollar rebounds after a substantial selloff led by the FOMC decision to leave the interest rate unchanged. The Dollar index, which tracks the US currency against major peers, recoiled with support at a 95.00 level on Thursday, adding 0.05% to the 95.36 price in the early Friday session...
---