May 15, 2015
---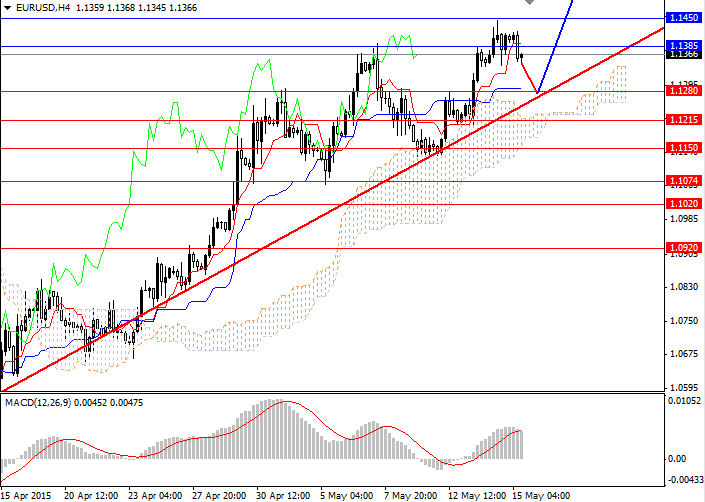 Current trend
Throughout a month European currency has been growing against the USD amid weakening in the American currency. The data on all sectors of the American economy shows slowdown of economic growth. The decrease in demand for the USD has provoked investors into buying the Euro and the Pound.
Additional support to European currency has added favourable data on the key indices of Germany, France and Europe as a whole. The number of industrial orders on Germany has grown. GDP of France has exceeded all expectations. From the technical point of view the pair EUR/USD has broken down all possible resistance and technically reversed downward trend.
Attention today shall be focused on the US news on the industrial production, capacity utilization and consumer sentiment index. The rise in yields on government bonds in Germany will add attraction to the Euro.
Support and resistance
It is likely that the USD will win back some of the losses and the pair will reach the level of 1.1280. The trend will remain upward. Next week, information on the key indices of Eurozone can inspire investors and the pair may continue upward movement with the target of 1.1600. Most of the indicators show the rise in the pair; the volume of the long positions continues to grow. In the medium-term uptrend will continue with the transition to the consolidation stage.
Support levels: 1.1280, 1.1215, 1.1150, 1.1075, 1.1020 and 1.0920.
Resistance levels: 1.1385, 1.1450, 1.1540, 1.1600 and 1.1670.
Trading tips
It is recommended to open long positions at the current price from the key support levels of 1.1250 and 1.1150 and take profit at the level of 1.1600.
LiteForex Investment Limited Analytics
Publication source
---
LiteForex information
LiteForex reviews
January 20, 2017
Euro holds gains against the US Dollar ahead of the ECB rate decision, as majority of economists expect no major updates in the policy, while investors will be taking stock of Draghi rhetoric's to foresee the timeframe of the next big move by the policymakers...
---
January 20, 2017
Oil prices remained in red figures after Wednesday's bearish acceleration. Brent a little changed on the day and remained prone to more weakness on Thursday. The benchmark stayed neutral around 54.50 dollars per barrel flirting with the level during the European session...
---
January 20, 2017
The British pound has pulled back sharply today after making its biggest 1day gain in nearly 20 years' yesterday, as fears once again crept in about where Brexit will lead to...
---