20 May, 2015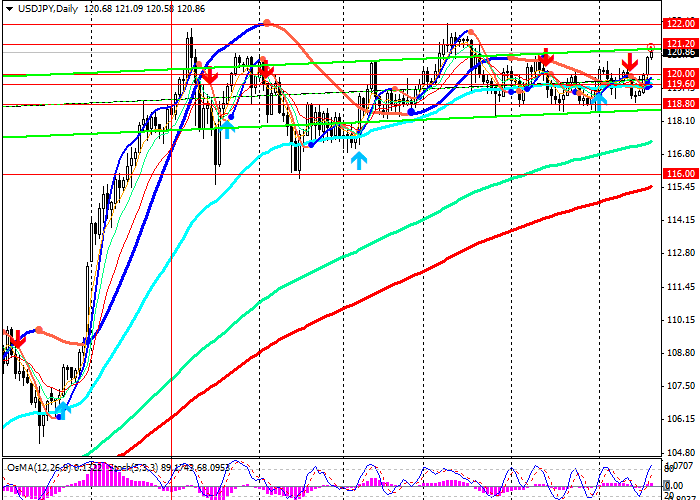 Current trend
Despite the ups and downs of the world currencies against the USA, the pair USD/JPY is notable for the stable movement in the channel of 122.00–116.00. Deviations in both directions as a rule do not exceed 120 points. On the one hand, it is easy to make forecast in this conditions, supposing further movement in price in the range of 121.20–118.80; on the other hand, it is difficult as in the long-term a lot will depend of the interest rate decision of the Bank of Japan.
Currently, the interest rate of Japan is 0.1%. In the short-term monetary policy of the Bank of Japan will remain soft; however, in case of deterioration of economic statistics the interest rate can be lowered.
This morning at 02:50 (GMT+3) the pair was supported by the Japanese GDP for Q1 (real GDP rose by 2.4% in January-March against the forecast of growth by 1.5%).Tokyo stocks and Nikkei went up.
At 21:00 (GMT+3) the minutes of the US Open Market Committee (FOMC) will be released. If the minutes give positive assessment of the economic and financial situation in the USA, the pair will get additional support and in case of breakdown of the level of 121.20, the price will reach the level of 121.50, the growth can continue up to 122.00 until the end of the week.
If the US news is negative, the pair will go to the bottom limit of the channel at 118.80, on its way breaking down the levels of 120.00, 119.80 and 119.30. However, it is unlikely that the pair will go further down.
Support and resistance
Support levels: 118.80, 119.60 and 120.00.
Resistance levels: 121.20 and 121.50.
Trading tips
It is recommended to place pending orders BuyStop at the price 121.20 with the targets of 121.50 and 121.75.
Alternative scenario: pending orders SellStop at the price of 120.50 with the targets of 120.00, 119.60, 119.30 and 118.80.
---
---