June 10, 2015
---
EURUSD Daily Pivots
| | |
| --- | --- |
| R3 | 1.1477 |
| R2 | 1.1411 |
| R1 | 1.1345 |
| Pivot | 1.1279 |
| S1 | 1.1213 |
| S2 | 1.1148 |
| S3 | 1.0823 |
EURUSD (1.129): EURUSD closed with a doji type of a candlestick pattern yesterday on the daily chart, right near the resistance/support level of 1.12845. This comes just after a bullish engulfing candlestick pattern and could therefore indicate a possible move to the downside. The bullish bias remains intact as long as the previous low of the bullish engulfing candlestick at 1.108 is not breached.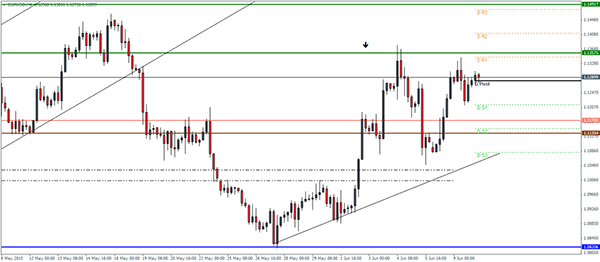 On the intraday charts, we notice a breakout from the inside bar, four sessions ago and as long as the low of this, near 1.12132 holds we can expect to see a continuation to the upside to the resistance at 1.13575. A close below 1.12132 could put EURUSD to test the lower support at 1.117.
USDJPY Daily Pivots
| | |
| --- | --- |
| R3 | 125.646 |
| R2 | 125.187 |
| R1 | 124.768 |
| Pivot | 124.30 |
| S1 | 123.889 |
| S2 | 123.43 |
| S3 | 123.011 |
USDJPY (123.33): USDJPY saw a sharp sell off early today and on the intraday charts we notice that the major trend line has also been breached. This will likely see USDJPY decline towards 122 support if the broken support at 124 turns to resistance. A retest to 124 also cannot be ruled out and it will be important to see how price reacts to this level. A close above 124 is required in order to anticipate any upside moves in USDJPY.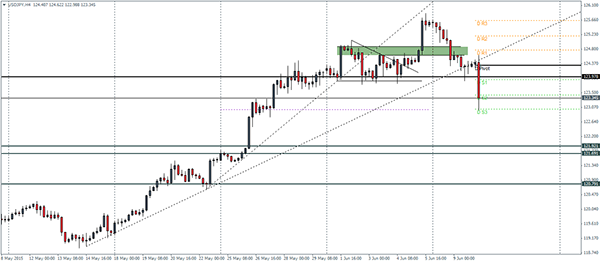 GBPUSD Daily Pivots
| | |
| --- | --- |
| R3 | 1.5561 |
| R2 | 1.5475 |
| R1 | 1.5429 |
| Pivot | 1.5343 |
| S1 | 1.5298 |
| S2 | 1.5212 |
| S3 | 1.5166 |
GBPUSD (1.541): GBPUSD has managed to hold near the support zone of 1.532 - 1.523 on the daily charts. The Cable formed an inside bar few days ago and broke out to the upside from the support indicating a possible move towards 1.552.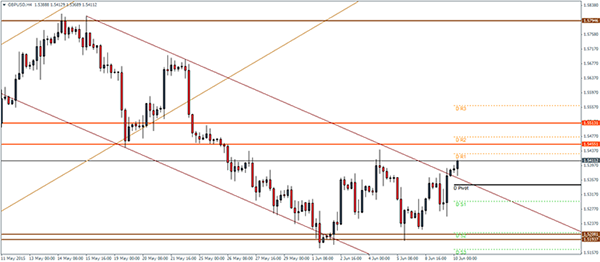 On the intraday charts we notice price breaking out of the falling price channel and looks poised to test the resistance between 1.551 - 1.5455. Price action from here on will be interesting because if the resistance holds the rallies, GBPUSD could possibly decline lower to potentially test the lower support at 1.52. A break above 1.551 will turn GBPUSD bullish.
Publication source
---
Orbex information
Orbex reviews
September 29, 2016
Yesterday decision by OPEC to restrict oil supply has pushed the price of crude higher by some 5%. The move took the markets by surprise, with the divisions between Iran (who are still enjoying their return to global markets)...
---
September 29, 2016
The gold price is down for a second straight day today as investors await a raft of data from the US this week which may decide the question of an interest rate hike...
---
September 29, 2016
Global stocks were chaotic on Tuesday with most equities vibrating between losses and gains as the mixture of anticipation ahead of OPEC - informal meeting and ongoing discussions over the results of the first presidential debate created explosive levels of volatility...
---