June 17, 2015
---
| | |
| --- | --- |
| R3 | 1.144 |
| R2 | 1.1384 |
| R1 | 1.1315 |
| Pivot | 1.1258 |
| S1 | 1.119 |
| S2 | 1.1134 |
| S3 | 1.1065 |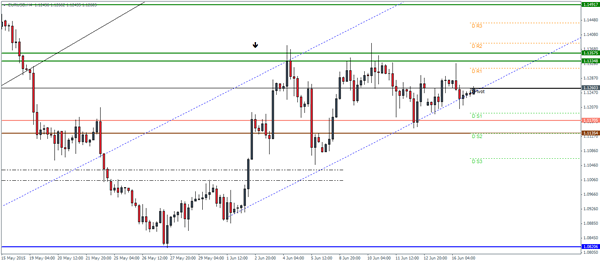 EURUSD (1.125): EURUSD remained range bound, marking a sixth consecutive session of sideways price action. Understandably today's FOMC statement and press conference is likely to trigger a break out. Price action has been finding it hard to break above 1.12845 level of resistance on the daily chart with the nearest support at 1.09708.
On the intraday charts we notice price has managed to find dynamic support near the lower end of the price channel but a break above 1.1334 - 1.13575 is needed in order to ensure further gains. A break down from the price channel will likely see a decline towards initial minor support near 1.117 - 1.1135.
USDJPY Daily Pivots
| | |
| --- | --- |
| R3 | 124.18 |
| R2 | 123.991 |
| R1 | 123.676 |
| Pivot | 123.486 |
| S1 | 123.158 |
| S2 | 122.969 |
| S3 | 122.653 |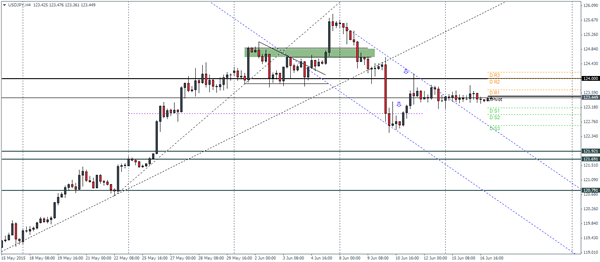 USDJPY (123.44): USDJPY has been ranging for four sessions so far on the daily time frame. On the intraday charts, price is trading below the broken support at 124. A break above 124 is needed to test new highs in USDJPY. On the flipside, should a test to 124 fail and turns to support, USDJPY could potentially stage a decline towards 122 region of support. We notice that price has broken out of the falling price channel and a modest retest of this break out could be a possibility with minor support coming in at 123.
GBPUSD Daily Pivots
| | |
| --- | --- |
| R3 | 1.5799 |
| R2 | 1.5725 |
| R1 | 1.5686 |
| Pivot | 1.5613 |
| S1 | 1.5574 |
| S2 | 1.5501 |
| S3 | 1.5462 |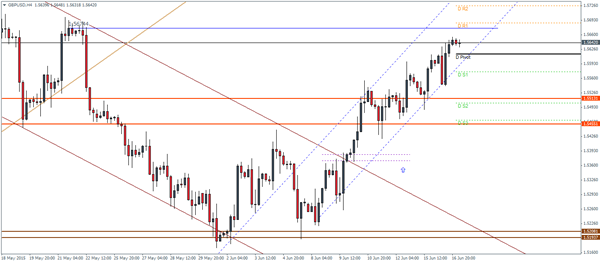 GBPUSD (1.5641): GBPUSD has managed to post another session of gains on the daily chart, after breaking free above 1.552 level of support. The next resistance comes in at 1.57525.
On the intraday charts, price is well supported within the rising price channel, but currently price is just short of the previous resistance highs near 1.5674. Should this level contain the rally, GBPUSD could potentially risk a break out from the rising price channel. However, with support firm near 1.551 through 1.5455, the declines in GBPUSD are likely to be well contained.
Publication source
---
Orbex information
Orbex reviews
September 30, 2016
The global equities rally led by the gains in the energy sector after the OPEC members cut a deal in Algiers, despite the market scepticism and repeated statements that the Oil officials in Iran and Saudi Arabia are not able to find a middle ground in the current conditions...
---
September 30, 2016
In a huge surprise to the market, members of the Opec cartel agreed to cut production by as much as 700,000 barrels a day with some predicting that this may be the start of a new upward trend for oil...
---
September 30, 2016
Brent rose in the European session after a surprised OPEC decision to cut oil output. Moreover, a draw in U.S. crude stocks gave an additional support for oil prices...
---