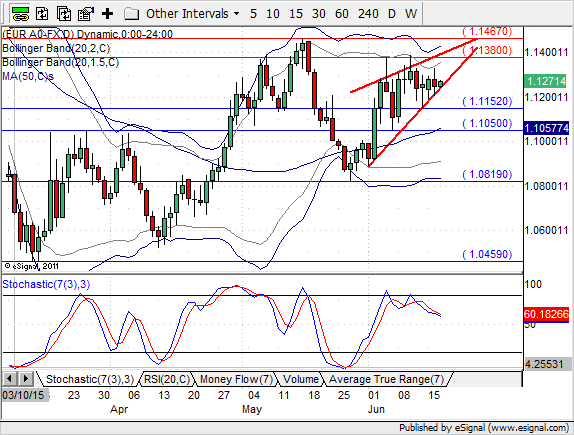 EURUSD, Daily
Yesterday's US May building starts and permits divergence was good news on net but didn't have an impact on the US Dollar Index. The 11.1% drop in housing starts from an upwardly-revised April cycle-high reflected the tail-end of the winter's weather gyrations while an 11.8% permits surge to a robust 1.275 mln new cycle-high rate bodes well for housing activity into mid-year. Starts under construction is climbing at a healthy 14% rate into Q2, and home completions have risen 28.3% over the past two months after a 17.3% February-March setback that was likely weather-related. The surge in new home construction and completions will fuel a climb in new home sales into mid-2015.
FOMC began the first "live" meeting in terms of a possible rate move but there are no expectations for a rate hike to happen now. Risk is still for rate lift-off in September, but that could be just a token move according to market speculation. The improvement in growth, strengthening in the labor market, and the pickup in some inflation indicators support expectations the Fed will finally start to normalize policy next quarter. But, many are now of the opinion that Greece will default and increased market volatility could keep the FOMC inactive for the rest of the year. The Fed's forecast revisions will be important for fine-tuning expectations on the rate trajectory. Yellen's press conference also will be parsed for indications on the tightening path. So far the Fed Chair has taken the dovish path at each junction in the road given uncertainty over growth in the US and abroad, subdued inflation, and the impact from the stronger dollar. We suspect she will remain cautiously optimistic that the economy will perform in line with policymakers' outlooks for stronger growth and a pickup in wages and prices.
EURUSD traded sideways yesterday as I expected in analysis but the pair found support a bit higher than I suggested, at lower 4h Bollinger bands at 1.1203. This created yet another higher low in 4h chart which suggests that EURUSD should push higher today. At the time of writing intraday this is happening with EURUSD trending higher this morning. Resistance level at 1.1280 has been limiting the move and judging from the intraday charts the area between 1.1280 and 1.1330 could well be the area that turns EURUSD lower today. The bearish view with potential to 1.1000 level over the coming few trading days is still valid. This is supported by the bearish wedge and the proximity of higher time frame resistance level. The nearest significant daily resistance levels are at 1.1380 and 1.4167 while support levels are at 1.1152 and 1.1050.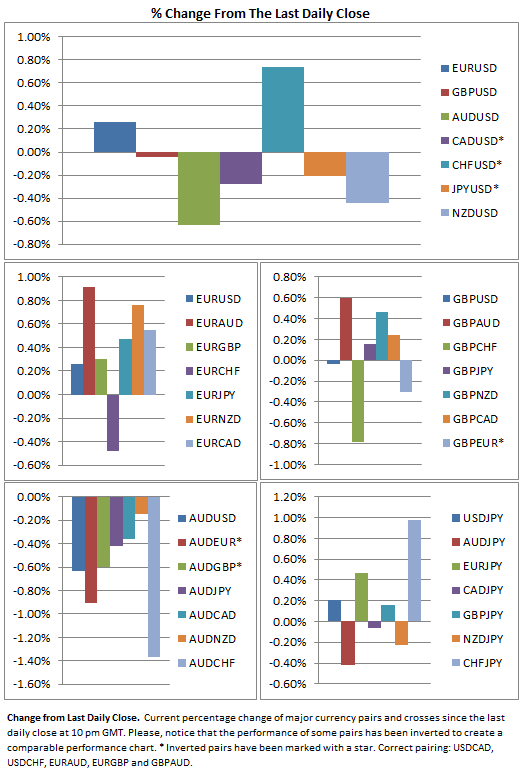 Currency Pairs, Grouped Performance (% Change)
This morning we are seeing AUD weakness and CHF strength. EUR has shown some strength against everything else but CHF which has been rather strong this morning against all the majors. USD, GBP and JPY performances are mixed as there is no clear trend across the board in these currencies.The strongest GBP pair over the last few days has been GBPNZD. This has taken the pair close to year 2011 weekly high at 2.2525. Another strong mover is AUDNZD and is trading near a resistance, the weekly pivot candle low (1.1140) from September last year.
Main Macro Events Today
UK Claimant Count Change: a drop of -11.1k in May claimant looks likely with the ILO unemployment for April seen steady at 5.5%.
UK Average Hourly Earnings: Markets will give particular attention to average household earnings to the three months to April, as this is expected to show the with-bonus figure rise 2.1% y/y from +1.9% and by 2.5% y/y in the ex-bonus figure, up from 2.2% previously. Such outcomes would mark new cycle highs, and anything stronger would likely reanimate BoE tightening expectations, which currently centre on Q2 next year.
Fed's Interest Rate Decision and Policy Statement: No change is expected in this meeting. Risk is still for rate lift-off in September, but that could be just a token move according to market speculation.