July 8, 2015
---
EURUSD Daily Pivots
| | |
| --- | --- |
| R3 | 1.1216 |
| R2 | 1.1135 |
| R1 | 1.1073 |
| Pivot | 1.0994 |
| S1 | 1.0930 |
| S2 | 1.0851 |
| S3 | 1.0787 |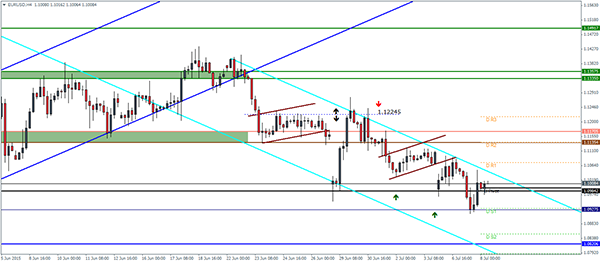 EURUSD (1.10): EURUSD attempted to break out of last Monday's range (June 29th, 2015) but saw a sharp rejection. Currently price is trading close to the lower end of the range and could see a potential break out to the downside. If this happens, price action could swiftly test the next major support at 1.0825 on the daily chart. On the intraday time frame, price dropped lower to 1.09275 and saw a strong reversal from these lows with price settling back above 1.0985 level of support resistance. With price trading close to the upper end of the falling price channel there is a potential risk of a break out to the upside. However, a retest back to 1.0985 is needed to validate this view. On the other hand, a decline in prices will see 1.082 on break of 1.09275..
USDJPY Daily Pivots
| | |
| --- | --- |
| R3 | 123.797 |
| R2 | 123.338 |
| R1 | 122.932 |
| Pivot | 122.473 |
| S1 | 122.067 |
| S2 | 121.595 |
| S3 | 121.188 |
USDJPY (122.0): USDJPY remains very bearish on the daily time frame after prices failed to hold above 122.65. The break of this support saw prices test back to the main support near 122 - 121.7 region, as we noted in our previous analysis. As long as prices hold above 122 - 121.7, USDJPY could see a possible break out from the falling price channel. On the other hand, should the support zone give way, USDJPY could well test previous lows near the next support at 120.8 region. There is also a risk of a possible break out noting the falling wedge pattern that has formed. Therefore another test to 122.65 is very likely which could offer early clues into the upside breakout in USDJPY, which will then see a test back to 124..
GBPUSD Daily Pivots
| | |
| --- | --- |
| R3 | 1.577 |
| R2 | 1.5688 |
| R1 | 1.5574 |
| Pivot | 1.5493 |
| S1 | 1.5379 |
| S2 | 1.5299 |
| S3 | 1.5185 |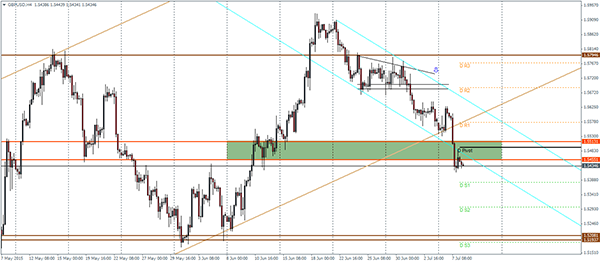 GBPUSD (1.543): GBPUSD closed on a very bearish note yesterday and the price action is looking to see a further decline in prices. On the daily charts, the next support comes in at 1.532 level. On the intraday charts, price cleared the major support between 1.551 - 1.5455 on a very strong decline and we could therefore see a continued fall to the downside. The next support comes at 1.52 region. We could expect a possible retest back to the upside however before prices begin their descent.
Publication source
---
Orbex information
Orbex reviews
January 20, 2017
Euro holds gains against the US Dollar ahead of the ECB rate decision, as majority of economists expect no major updates in the policy, while investors will be taking stock of Draghi rhetoric's to foresee the timeframe of the next big move by the policymakers...
---
January 20, 2017
Oil prices remained in red figures after Wednesday's bearish acceleration. Brent a little changed on the day and remained prone to more weakness on Thursday. The benchmark stayed neutral around 54.50 dollars per barrel flirting with the level during the European session...
---
January 20, 2017
The British pound has pulled back sharply today after making its biggest 1day gain in nearly 20 years' yesterday, as fears once again crept in about where Brexit will lead to...
---