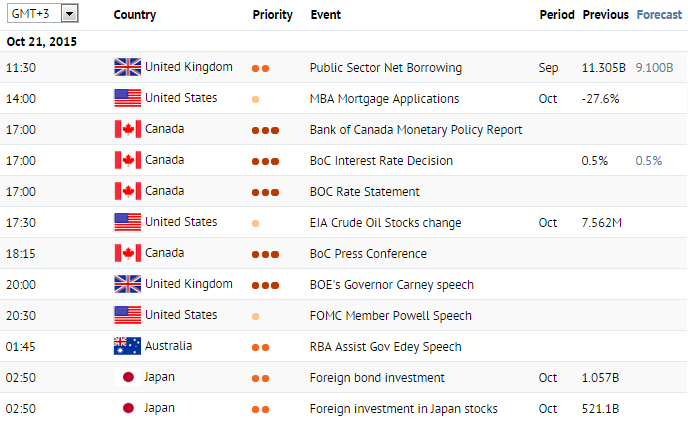 October 21, 2015
---
The most important event on Wednesday is going to happen in Canada, where the central bank is going to announce its decision on interest rates. Before that, however, attention needs to be paid to the Public Sector Net Borrowing for September from the UK, due at 11:30 am (all times stated in GMT +3), which represents the amount of debt held by the government. The figure is expected to increase to 9.1 billion Pounds, which is less than in August but might still pressure the GBP. The BoC Interest Rate Decision is due at 5 pm. Markets do not expect the regulator to change the rate, which would remain at its current 0.5%. It is worth noting that interest rates were lowered twice during this year that lead to weakening in the Canadian currency and small inflation increase in the country. Investors will also pay attention to the BoC Rate Statement and its Press Conference, due at 5:30 pm, where some commentaries on the current state of the Canadian economy and possible directions in its monetary policy could be announced. After that, markets will focus on speeches by officials from the UK, Australian and the US regulators. The BOE's Governor Carney speech is due at 8 pm in Oxford, the FOMC Member Powell speech is due at 8:30 pm, while on Wednesday night at 1:45 am, the RBA Assistant Governor Edey will appear at the International Swaps and Derivatives Association meeting. In their speeches, investors traditionally look for hints on further regulators' actions.
Publication source
---
LiteForex information
LiteForex reviews
January 18, 2017
Trump hinted in his interview to the Financial Times that the US Dollar went for a far too extensive rally and the enthusiasm surrounding the bulls needs to be cooled...
---
January 18, 2017
We are going to see some central bank action (Canada) and hear from some Fed members and the chairwoman today. Apart from that we will get more information on the UK labor market and a data package from the US, including CPI for December and industrial output...
---
January 18, 2017
The Australian dollar swung heavily today as US bulls finally looked to sell off in the wake of economic uncertainty around the United Kingdom...
---