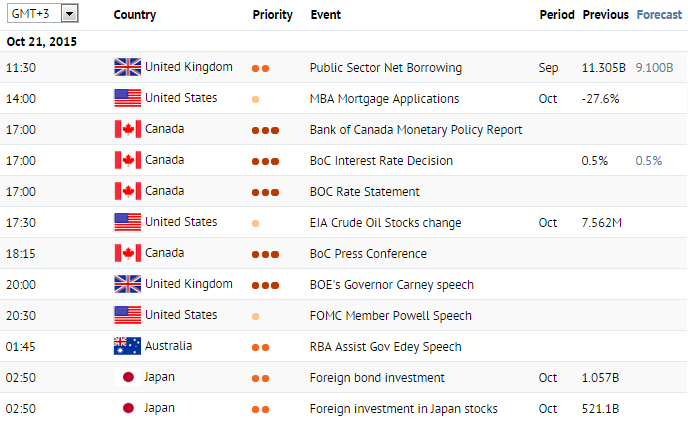 October 21, 2015
---
The most important event on Wednesday is going to happen in Canada, where the central bank is going to announce its decision on interest rates. Before that, however, attention needs to be paid to the Public Sector Net Borrowing for September from the UK, due at 11:30 am (all times stated in GMT +3), which represents the amount of debt held by the government. The figure is expected to increase to 9.1 billion Pounds, which is less than in August but might still pressure the GBP. The BoC Interest Rate Decision is due at 5 pm. Markets do not expect the regulator to change the rate, which would remain at its current 0.5%. It is worth noting that interest rates were lowered twice during this year that lead to weakening in the Canadian currency and small inflation increase in the country. Investors will also pay attention to the BoC Rate Statement and its Press Conference, due at 5:30 pm, where some commentaries on the current state of the Canadian economy and possible directions in its monetary policy could be announced. After that, markets will focus on speeches by officials from the UK, Australian and the US regulators. The BOE's Governor Carney speech is due at 8 pm in Oxford, the FOMC Member Powell speech is due at 8:30 pm, while on Wednesday night at 1:45 am, the RBA Assistant Governor Edey will appear at the International Swaps and Derivatives Association meeting. In their speeches, investors traditionally look for hints on further regulators' actions.
Publication source
---
LiteForex information
LiteForex reviews
October 26, 2016
On Wednesday, the US dollar was backed by hopes that American interest rates will edge up by the year-end. It stood flat during Asia trade, just below a nine-month high reached overnight, while the Australian dollar earned as inflation data doused the probability of a rate drop there...
---
October 26, 2016
The Greenback extended its rally to a nine-month high against other major peers against the rising bets of a FED tightening in December. As rumors are circling the next US leader saying that they will shift the stimulus burden from FED via changes in the fiscal policy...
---
October 26, 2016
The XAU/USD pair traded flat on Tuesday. The price remained between 1270 and 1260 dollars per ounce during the day. Gold prices struggled to find support around 1260. Sellers failed to break the level and the yellow metal bounced upwards and recovered to the upper boundary of the range...
---