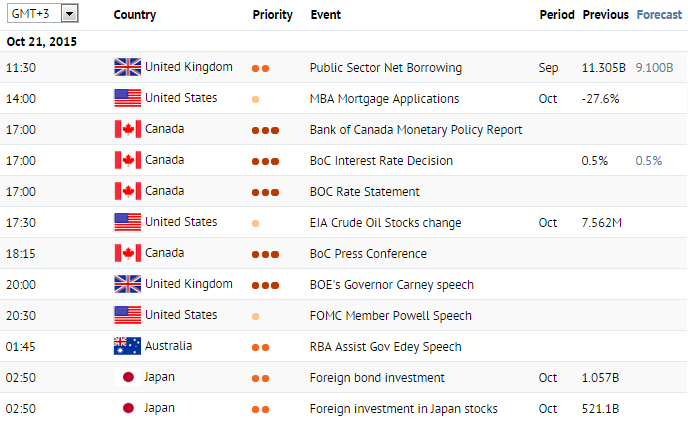 October 21, 2015
---
The most important event on Wednesday is going to happen in Canada, where the central bank is going to announce its decision on interest rates. Before that, however, attention needs to be paid to the Public Sector Net Borrowing for September from the UK, due at 11:30 am (all times stated in GMT +3), which represents the amount of debt held by the government. The figure is expected to increase to 9.1 billion Pounds, which is less than in August but might still pressure the GBP. The BoC Interest Rate Decision is due at 5 pm. Markets do not expect the regulator to change the rate, which would remain at its current 0.5%. It is worth noting that interest rates were lowered twice during this year that lead to weakening in the Canadian currency and small inflation increase in the country. Investors will also pay attention to the BoC Rate Statement and its Press Conference, due at 5:30 pm, where some commentaries on the current state of the Canadian economy and possible directions in its monetary policy could be announced. After that, markets will focus on speeches by officials from the UK, Australian and the US regulators. The BOE's Governor Carney speech is due at 8 pm in Oxford, the FOMC Member Powell speech is due at 8:30 pm, while on Wednesday night at 1:45 am, the RBA Assistant Governor Edey will appear at the International Swaps and Derivatives Association meeting. In their speeches, investors traditionally look for hints on further regulators' actions.
Publication source
---
LiteForex information
LiteForex reviews
February 20, 2017
The dramatical event looms large for Pound, which can sweep the British currency off its feet – the official exit from the EU. The Prime Minister Theresa May said that the process can be initiated as close as possible to the EU summit in Brussels, scheduled to take place on 9-10 March...
---
February 20, 2017
Despite the overall positive outlook the yellow metal seems to be having problems with its further advance. Inability to move higher may return some selling pressure to markets. Sellers' profit targets lie at 1230 and 1220 levels...
---
February 17, 2017
The New Zealand dollar has found itself under pressure in recent days as the market has started to hedge a little while it waits on the next steps for the US economy...
---