December 22, 2015
---
Daily Forex Preview – 22/12
EURUSD Daily Pivots
| | |
| --- | --- |
| R3 | 1.1044 |
| R2 | 1.0991 |
| R1 | 1.0953 |
| Pivot | 1.0900 |
| S1 | 1.0862 |
| S2 | 1.0808 |
| S3 | 1.0770 |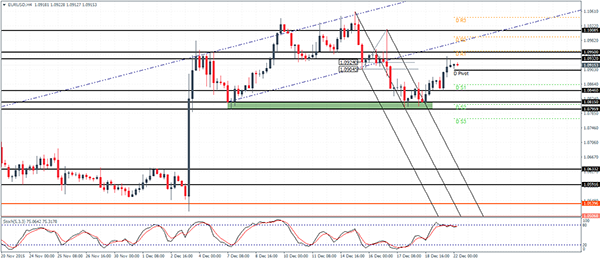 EURUSD (1.09): The head and shoulders pattern noted yesterday has seen price rally to 1.0932 level which should now be likely to be tested for resistance. A successful cap on prices here could see EURUSD decline back to previous support near 1.0815 region and a break below this level could expose the previous pending support near 1.063 -1.065 region. On the daily chart, price are in the process of forming a minor head and shoulders pattern which has evolved since the left shoulder was formed in early December this year. As long as 1.093 holds and no new highs are formed, the break of 1.0825 neckline could see a dip down to 1.064 levels.
USDJPY Daily Pivots
| | |
| --- | --- |
| R3 | 122.178 |
| R2 | 121.842 |
| R1 | 121.515 |
| Pivot | 121.179 |
| S1 | 120.851 |
| S2 | 120.516 |
| S3 | 120.192 |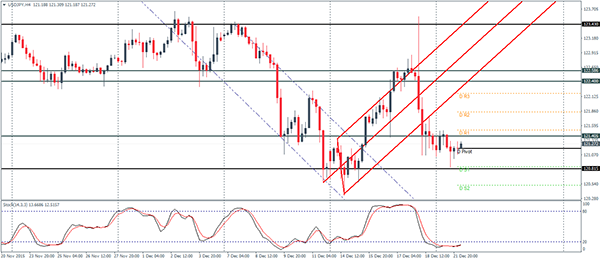 USDJPY (121.2): USDJPY has formed a doji candlestick pattern on the daily chart yesterday and we can anticipate a short term move to the upside towards the previous support formed near 122.545 region. On the 4-hour chart, resistance is seen at 121.4 which needs to be taken out in order to target 122.545. Above this level, there is scope for a strong rally to 122.4 - 122.6 level of resistance, which could come in as a strong level of note. A close above 122.4 - 122.6 could however invalidate the short side bias and turn bullish for the USDJPY.
GBPUSD Daily Pivots
| | |
| --- | --- |
| R3 | 1.4967 |
| R2 | 1.4948 |
| R1 | 1.4916 |
| Pivot | 1.4896 |
| S1 | 1.4864 |
| S2 | 1.4845 |
| S3 | 1.4811 |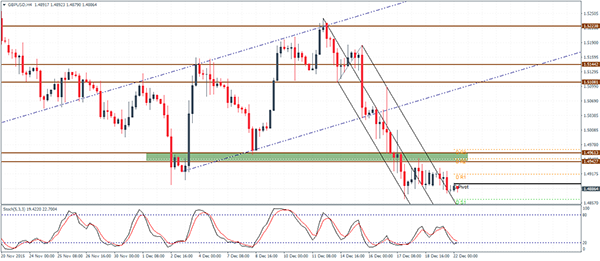 GBPUSD (1.48): GBPUSD continues to decline but the momentum shows signs of exhaustion which could see a short term correction to the upside. With prices breaking out of the median line, GBPUSD could be testing the previously broken support at 1.494 - 1.496 for resistance with scope for a test back to 1.50. Above 1.50, there is room for a strong rally towards 1.51 level but for this, GBPUSD will need to dip back to retest the previous support/resistance level at 1.496 - 1.494. The 4-hour chart time frame's Stochastics oscillator points a correction which could keep prices ranging between the current lows at 1.488 - 1.50 in the near term.
Publication source
---
Orbex information
Orbex reviews
September 26, 2016
The FED did not raise interest rates last week, as it was anticipated by many market participants. It seems like the FED decided to go with status quo and wait until a new American president is elected. We are waiting for a rate hike to take a place in December as it would be logical and a well justified thing to happen...
---
September 26, 2016
Monday's US presidential debate will probably break a new record, not in the S&P 500, but the number of viewers which according to media analyst could reach over 100 million Americans, surpassing Carter-Reagan debate in 1980 which attracted 80.6 million viewers...
---
September 23, 2016
The market is in need of a new narrative. The Fed meeting in December is too far off and for now, the US election is not something that entices excitement. With central banks on hold, markets are pushing the envelope in terms of risk...
---