28 December, 2015
URUSD Daily Pivots
EURUSD (1.09): EURUSD reversed the losses from December 23rd's price action and closed on a bullish note the following day. Price action remains on a bullish note at today's open with EURUSD currently testing the highs near 1.0973. Plotting the median line to the most recent price action, we anticipate a move to 1.10 resistance if the bullish momentum continues. A move to the upside would still keep the head and shoulders pattern on the daily chart in play but comes at a risk of a move higher. A close above1.1025 would invalidate the pattern. Therefore 1.10 is likely to be a key level to watch for. To the downside, 1.085 remains a strong support level that could be tested in the near term.
| | |
| --- | --- |
| R3 | 1.1040 |
| R2 | 1.1003 |
| R1 | 1.0978 |
| Pivot | 1.0941 |
| S1 | 1.0914 |
| S2 | 1.0877 |
| S3 | 1.0852 |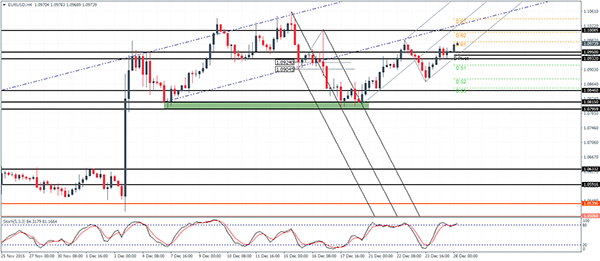 USDJPY Daily Pivots
USDJPY (120.4): USDJPY is attempting to recover some of the losses from the past five days with price trading near 120.4 after touching the lows of 120.167 in early trading today. Resistance at 121.2 remains a key level to watch for. On the 4-hour chart, the downward consolidation remains in play and only a break of the upper trend line would signal a move to 121.2 region ahead of a break of 120.815 minor support/resistance. The Stochastics oscillator on the 4-hour chart remains in the oversold level but pointing higher could signal a short term correction in prices. There is also the strong bullish engulfing candlestick pattern formed on the 4-hour chart which could signal a move to the upside unless it is invalidated with a doji candle that has formed right after.
| | |
| --- | --- |
| R3 | 121.487 |
| R2 | 121.234 |
| R1 | 120.753 |
| Pivot | 120.500 |
| S1 | 120.023 |
| S2 | 119.767 |
| S3 | 119.283 |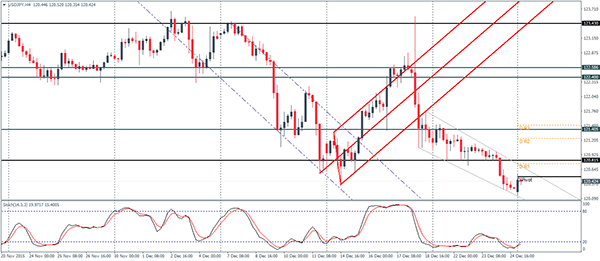 GBPUSD Daily Pivots
GBPUSD (1.49): GBPUSD is attempting to post a third day of gains with price trading near 1.492 at the time of writing. The reversal comes off an inside that was formed on December 23rd. With price closing above the high of 1.4908 we could expect to see a follow through to the upside. On the 4-hour chart, price is close to the resistance zone of 1.496 - 1.494. Only a clean break above this resistance level will signal a move to the upside with the next main resistance at 1.51 coming into the picture. To the downside, failure to break above 1.496 will signal a continued decline lower.
| | |
| --- | --- |
| R3 | 1.5043 |
| R2 | 1.4994 |
| R1 | 1.4961 |
| Pivot | 1.4912 |
| S1 | 1.4878 |
| S2 | 1.4829 |
| S3 | 1.4797 |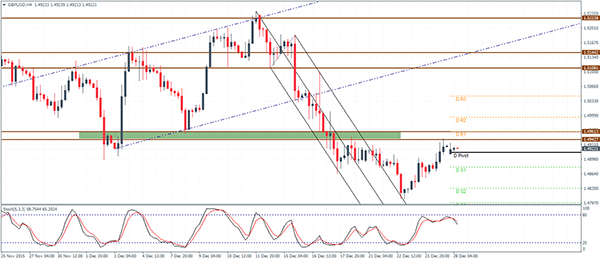 ---
Source link
---
---