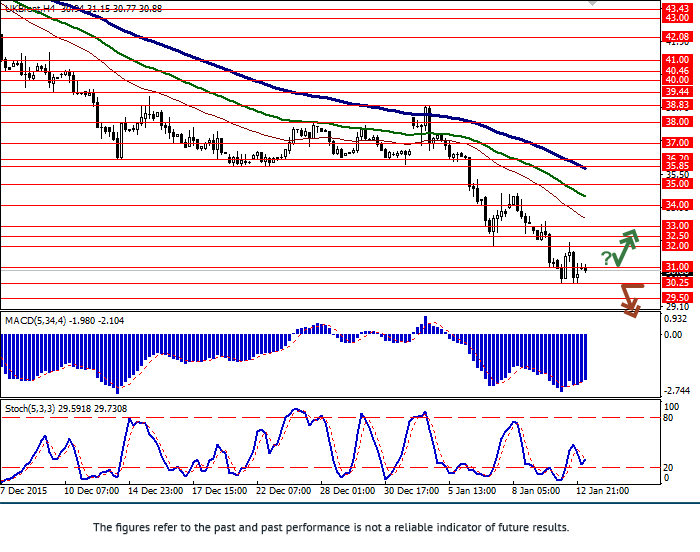 January 13, 2016
---
Current trend
Yesterday the price of Brent crude oil continued falling. The price remains under pressure amid strengthening US Dollar, substantial supply excess and slowing Chinese economy.
Due to declining prices, some countries from the OPEC are calling for an unscheduled meeting of the organisation, which could happen in March 2016.
At the same time, analytical agencies are lowering their forecasts for 2016 average prices. For example, Barclays lowered forecasted price of Brent crude from 60 to 37 Dollars per barrel.
Support and resistance
Bollinger Bands on the daily chart is moving down while the price range is widening. However, the price is still trading outside of its borders. MACD is slowing its fall keeping a sell signal. Stochastic is in the oversold zone and trying to turn up.
The indicators recommend waiting for clearer trading signals.
Support levels: 30.25 (local low), 30.00 (2004 low), 29.50.
Resistance levels: 31.00 (local high), 32.00, 32.50, 33.00, 34.00, 35.00 (6 January high), 35.85, 36.20.
Trading tips
Long positions can be opened after the breakout of the level of 32.00 (with the appropriate indicators signals) with targets at 32.55, 33.00 and stop-loss at 31.70. Validity – 1-2 days.
Short positions can be opened after the breakdown of the level of 30.40 with targets at 30.00, 29.50 and stop-loss at 30.70. Validity – 1-2 days.
Publication source
---
LiteForex information
LiteForex reviews
October 20, 2016
On Thursday, crude prices sank on profit taking after financial markets ascended yesterday due to a draw in American stocks and a hope for an OPEC-led cut in output...
---
October 20, 2016
With 19 days remaining to the U.S. presidential election, the republican nominee Donald Trump whose poll numbers have bottomed last week failed to score points against his opponent Hilary Clinton in the third and final debate, at least this is what the Mexican currency had declared...
---
October 20, 2016
It's been a surprising day today with the crude oil markets as they continue to find themselves facing a large amount of volatility in the wake of OPEC trying to cut a deal of production rates, but also the recent figures out from the US which paint an interesting picture....
---