3 February, 2016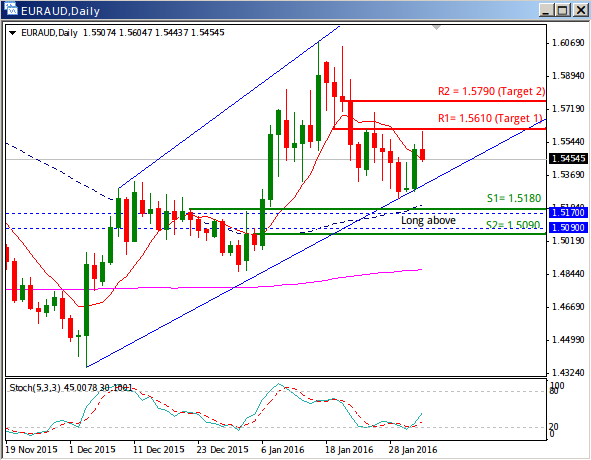 EURAUD, Daily
Eurozone unemployment shows modest signs of improvement and other Eurozone data may also start to print a better outlook for the Eurozone economy over the short term that may add to support the EUR longs. However, markets are on edge that over the medium term further ECB easing still remains a possibility, and that could keep a lid on the EUR.
The Reserve Bank of Australia left rates unchanged, while the monetary policy remains dovish, adding to the short term weakness on the AUD.
Technically, the EURAUD pair remains within the upward bull channel printing higher highs and higher lows since the December low (1.4353). Momentum analysis seems to be turning upward and current price is above its 10 and 50 SMA's. I remain with the conclusion that as long as price can hold above the 1.5090 – 1.5180 support zone, long positions can be supported for targets in the 1.5610 – 1.5790 zones.
---
Source link
Stock markets mostly moved higher
China and Hong Kong alongside other markets were closed for Lunar New Year holidays, which muted trading, but the Nikkei gained 1.19%...
Dollar traded mostly softer
The U.S. currency has been correlating inversely with global stock market direction of late on the causation that risk-on phases have seen investors...
US durable goods rebounds
U.S. personal income rose 0.3% in November with spending up 0.6%. The 0.4% increase in October income was not revised. The 0.3% spending increase..
---
---