8 February, 2016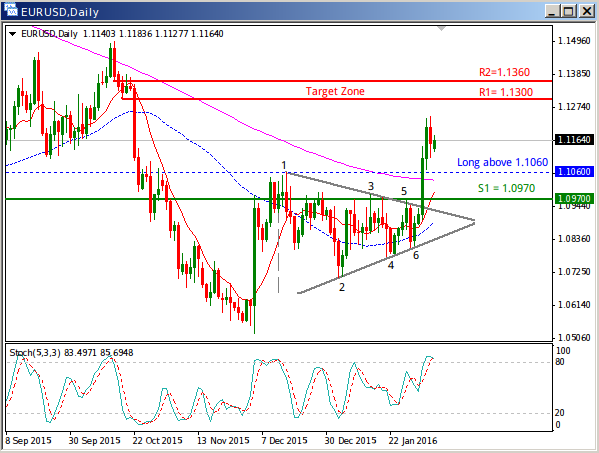 Friday NFP report should support a rate hike in March; even though the NFP missed expectations unemployment is now below 4.9% and the average hourly earnings have risen more than expected. However, for the moment, the market is not pricing in any rate hike and this could lead to a higher EUR in the short term.
Technically, the EURUSD over the last 3 months is in an uptrend since creating a series of lower bottoms and higher tops from the December 1.0520 lows. I spot a bullish symmetrical triangle (continuation pattern) December 29th High (1.0990) – February 1st low (1.0814), and current price is above its long term Moving Average.
My conclusion for the EURUSD pair supports long positions above 1.1060 for targets within the 1.1300 – 1.1360 area.
---
Source link
Stock markets mostly moved higher
China and Hong Kong alongside other markets were closed for Lunar New Year holidays, which muted trading, but the Nikkei gained 1.19%...
Dollar traded mostly softer
The U.S. currency has been correlating inversely with global stock market direction of late on the causation that risk-on phases have seen investors...
US durable goods rebounds
U.S. personal income rose 0.3% in November with spending up 0.6%. The 0.4% increase in October income was not revised. The 0.3% spending increase..
---
---