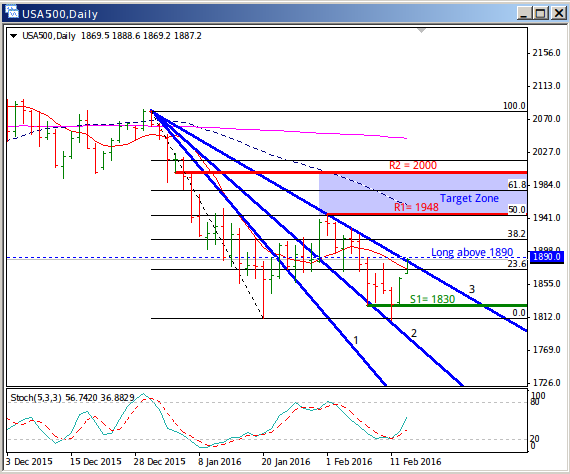 February 15, 2016
---
USA500 (S&P500), Daily
Recent U.S. reports defied the global financial panic, with retail sales through January that imply solid "real" spending growth. The Global fear of an economic downturn despite heavy commodity price declines and continued export price weakness is apparently not translating to weaker U.S. growth.
Technically, the S&P 500 (USA500) could reverse the recent global stock market sell-off providing we see a clean upward penetration of my 3rd fan line (see above chart). Resistance is spotted around the 1890.00 area. Additionally, a breakaway gap is spotted during the most recent trading day. My initial target zone is between the 50% – 61.8% (December high – January low retracement). My conclusion for the USA500 supports long positions above 1890 for targets within the 1948.00 – 2000.00 zone.
Publication source
---
HotForex information
HotForex reviews
February 27, 2017
The tone was negative in the oil market on Friday. The price reversed some losses in the night. Buyers returned the benchmark to 56.66 dollars per barrel where Brent caught fresh offers and moved lower...
---
February 27, 2017
On the evening of Tuesday, February 28th, US President Trump is slated to give a major address to a joint session of Congress in lieu of the usual State of the Union address...
---
February 24, 2017
Brent oil prices extended their recovery in the Asian session on Thursday. Buyers led the price higher and broke 56.50 dollars per barrel in the early European morning...
---