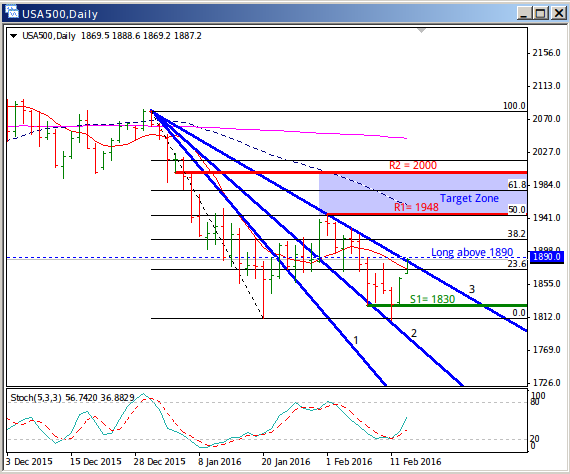 February 15, 2016
---
USA500 (S&P500), Daily
Recent U.S. reports defied the global financial panic, with retail sales through January that imply solid "real" spending growth. The Global fear of an economic downturn despite heavy commodity price declines and continued export price weakness is apparently not translating to weaker U.S. growth.
Technically, the S&P 500 (USA500) could reverse the recent global stock market sell-off providing we see a clean upward penetration of my 3rd fan line (see above chart). Resistance is spotted around the 1890.00 area. Additionally, a breakaway gap is spotted during the most recent trading day. My initial target zone is between the 50% – 61.8% (December high – January low retracement). My conclusion for the USA500 supports long positions above 1890 for targets within the 1948.00 – 2000.00 zone.
Publication source
---
HotForex information
HotForex reviews
September 29, 2016
Yesterday decision by OPEC to restrict oil supply has pushed the price of crude higher by some 5%. The move took the markets by surprise, with the divisions between Iran (who are still enjoying their return to global markets)...
---
September 29, 2016
The gold price is down for a second straight day today as investors await a raft of data from the US this week which may decide the question of an interest rate hike...
---
September 29, 2016
Global stocks were chaotic on Tuesday with most equities vibrating between losses and gains as the mixture of anticipation ahead of OPEC - informal meeting and ongoing discussions over the results of the first presidential debate created explosive levels of volatility...
---