15 February, 2016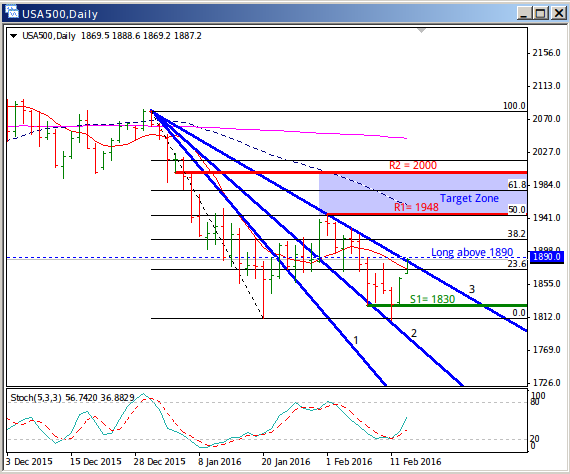 USA500 (S&P500), Daily
Recent U.S. reports defied the global financial panic, with retail sales through January that imply solid "real" spending growth. The Global fear of an economic downturn despite heavy commodity price declines and continued export price weakness is apparently not translating to weaker U.S. growth.
Technically, the S&P 500 (USA500) could reverse the recent global stock market sell-off providing we see a clean upward penetration of my 3rd fan line (see above chart). Resistance is spotted around the 1890.00 area. Additionally, a breakaway gap is spotted during the most recent trading day. My initial target zone is between the 50% – 61.8% (December high – January low retracement). My conclusion for the USA500 supports long positions above 1890 for targets within the 1948.00 – 2000.00 zone.
---
Source link
Stock markets mostly moved higher
China and Hong Kong alongside other markets were closed for Lunar New Year holidays, which muted trading, but the Nikkei gained 1.19%...
Dollar traded mostly softer
The U.S. currency has been correlating inversely with global stock market direction of late on the causation that risk-on phases have seen investors...
US durable goods rebounds
U.S. personal income rose 0.3% in November with spending up 0.6%. The 0.4% increase in October income was not revised. The 0.3% spending increase..
---
---