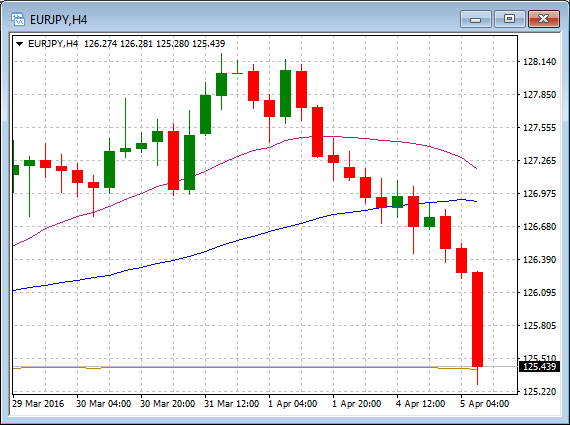 April 5, 2016
---
Eurozone final services PMI revised down to 53.1 from 54.0 reported initially and versus 53.3 in February. The composite was revised up to 53.1 from 53.0 reported initially on the back of the stronger manufacturing number, but this still leaves the index down from 53.7 in the previous month. So the improvement in confidence that the PMI suggested for the end of the first quarter looks shakier than thought and the country breakdown highlights that even the big four are drifting apart again, with the weakness mainly felt at the core. France in particular continues to underperform amid the lack of structural reforms.
EURJPY continued its decline from Fridays high to the psychological 125.50 level and the 4 Hour 200 Day MA. The JPY has been particularly strong over night as risk off takes hold. There was also a meeting convened between the BOJ, the Japanese finance ministry and the financial regulator, following the meeting Chief Cabinet Secretary Suga said FX levels were being watched with "a sense of urgency".
Publication source
---
Fort Financial Services information
Fort Financial Services reviews
October 20, 2016
On Thursday, crude prices sank on profit taking after financial markets ascended yesterday due to a draw in American stocks and a hope for an OPEC-led cut in output...
---
October 20, 2016
With 19 days remaining to the U.S. presidential election, the republican nominee Donald Trump whose poll numbers have bottomed last week failed to score points against his opponent Hilary Clinton in the third and final debate, at least this is what the Mexican currency had declared...
---
October 20, 2016
It's been a surprising day today with the crude oil markets as they continue to find themselves facing a large amount of volatility in the wake of OPEC trying to cut a deal of production rates, but also the recent figures out from the US which paint an interesting picture....
---