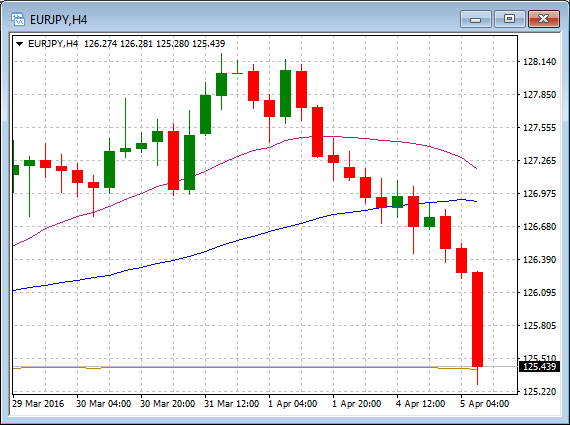 April 5, 2016
---
Eurozone final services PMI revised down to 53.1 from 54.0 reported initially and versus 53.3 in February. The composite was revised up to 53.1 from 53.0 reported initially on the back of the stronger manufacturing number, but this still leaves the index down from 53.7 in the previous month. So the improvement in confidence that the PMI suggested for the end of the first quarter looks shakier than thought and the country breakdown highlights that even the big four are drifting apart again, with the weakness mainly felt at the core. France in particular continues to underperform amid the lack of structural reforms.
EURJPY continued its decline from Fridays high to the psychological 125.50 level and the 4 Hour 200 Day MA. The JPY has been particularly strong over night as risk off takes hold. There was also a meeting convened between the BOJ, the Japanese finance ministry and the financial regulator, following the meeting Chief Cabinet Secretary Suga said FX levels were being watched with "a sense of urgency".
Publication source
---
Fort Financial Services information
Fort Financial Services reviews
February 21, 2017
Gold weakened on Monday amid a light market as American stocks were closed due to the President's day celebration. Market players wait for further hints regarding Fed's rate hike timing...
---
February 21, 2017
Despite the assurance about the soft Brexit from the British Prime Minister the in consideration of the bill has been proving opposite, and the suppressing growth attempts of the British currency...
---
February 21, 2017
After a muted trading session on Monday due to the U.S. holiday, the USD is finally showing signs of strength in early Asian trade as investors await economic data, speeches from several Fed Presidents, and minutes of the latest FOMC meeting.
---