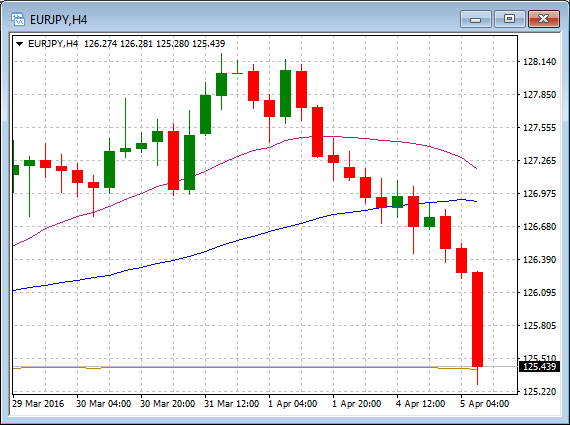 April 5, 2016
---
Eurozone final services PMI revised down to 53.1 from 54.0 reported initially and versus 53.3 in February. The composite was revised up to 53.1 from 53.0 reported initially on the back of the stronger manufacturing number, but this still leaves the index down from 53.7 in the previous month. So the improvement in confidence that the PMI suggested for the end of the first quarter looks shakier than thought and the country breakdown highlights that even the big four are drifting apart again, with the weakness mainly felt at the core. France in particular continues to underperform amid the lack of structural reforms.
EURJPY continued its decline from Fridays high to the psychological 125.50 level and the 4 Hour 200 Day MA. The JPY has been particularly strong over night as risk off takes hold. There was also a meeting convened between the BOJ, the Japanese finance ministry and the financial regulator, following the meeting Chief Cabinet Secretary Suga said FX levels were being watched with "a sense of urgency".
Publication source
---
Fort Financial Services information
Fort Financial Services reviews
September 26, 2016
The FED did not raise interest rates last week, as it was anticipated by many market participants. It seems like the FED decided to go with status quo and wait until a new American president is elected. We are waiting for a rate hike to take a place in December as it would be logical and a well justified thing to happen...
---
September 26, 2016
Monday's US presidential debate will probably break a new record, not in the S&P 500, but the number of viewers which according to media analyst could reach over 100 million Americans, surpassing Carter-Reagan debate in 1980 which attracted 80.6 million viewers...
---
September 23, 2016
The market is in need of a new narrative. The Fed meeting in December is too far off and for now, the US election is not something that entices excitement. With central banks on hold, markets are pushing the envelope in terms of risk...
---