27 June, 2016
The markets gapped lower this morning with the sterling in the eye of the storm. With the UK plunging into political uncertainty with many questions and few answers, the markets are bearing the brunt. Gold prices remain poised to the upside amid this uncertainty while the US dollar is mixed, stronger against most of its peers but weaker against the yen. USDJPY is looking biased to the downside and could potentially look at another go to breaking below the 100Yen level.
EURUSD Daily Analysis
EURUSD (1.102): EURUSD gapped lower this morning, opening at 1.1010 with a brief test to the support at 1.10 level. To the upside, the resistance at 1.1143 could be in for a retest yet again. To the downside, a break below 1.0985 is required for EURUSD to post further declines to 1.09 while the longer term declines could see an extended move to 1.08. If EURUSD manages to break above 1.1143 resistance, the further upside to 1.1217 could be tested. However, price action remains caught within 1.130 and 1.10 levels.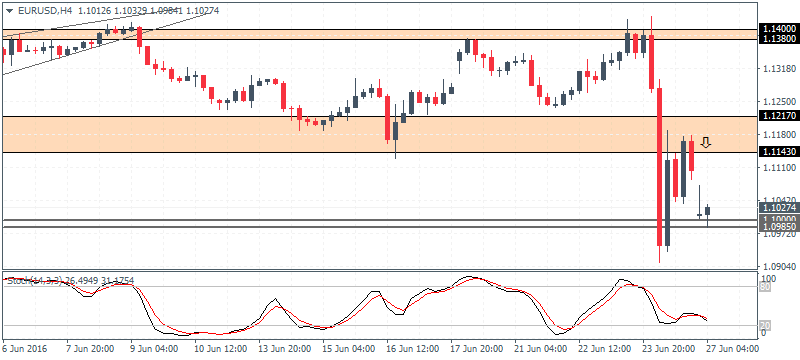 USDJPY Daily Analysis
USDJPY (101.9): USDJPY is attempting to find support near the 100 - 101 levels after a modest gap lower this morning. On the 4-hour chart, we notice a bearish pennant pattern being formed at the current levels. Support is seen at 101.25, and a break below this level could see USDJPY resume its declines. Based on the measured move, USDJPY could slip towards 98.25.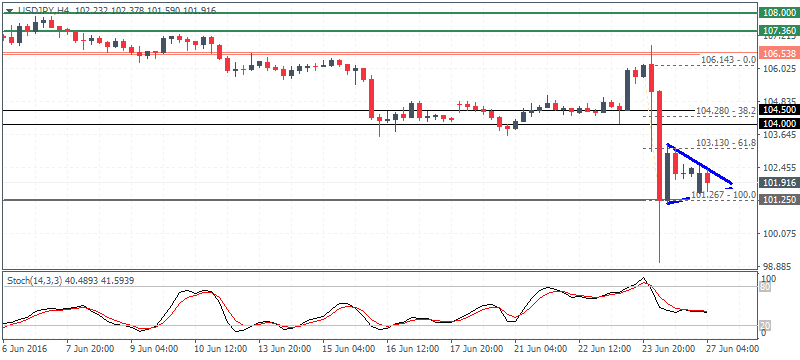 GBPUSD Daily Analysis
GBPUSD (1.3404): GBPUSD remains weak to the downside, with prices opening this morning at 1.3427. There is a minor support seen at 1.3385 levels which will be key as a break below this level could see EURUSD slip towards 1.3350 and eventually to 1.330 in the near term. To the upside, any gains are likely to be capped near 1.3850.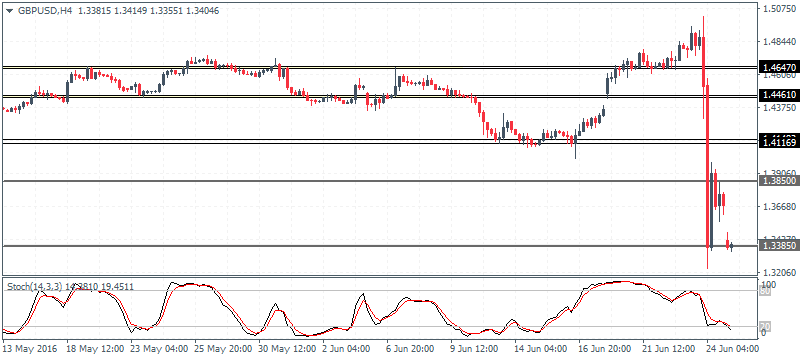 Gold Daily Analysis
XAUUSD (1324.82): Gold prices remain biased to the upside following a pullback to 1317 on Friday. The bullish pennant pattern remains in play, and any downside is limited to 1310 - 1300 levels in the near-term while to the upside 1371 - 1372 remains the measured target. In the event of a break down below 1310 - 1300, gold prices could shift the bias to the downside with the next support at 1290 coming into the picture while also invalidating the bullish pennant pattern.
---
Source link
---
---