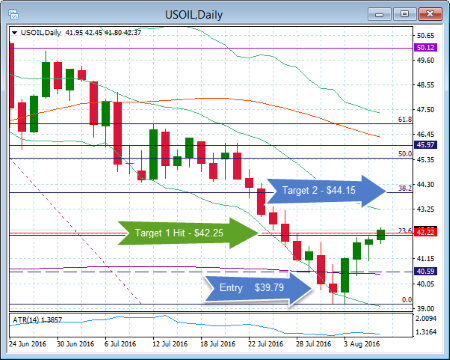 August 8, 2016
---
On Friday (August 5) I posted my analysis from overnight and the webinar on Thursday for the Oil market and how we were expecting a bounce and retrace from the significant two week decline.
This morning Target 1 was achieved at $42.25 from our entry at $39.79. Target 2 and the 38.2 Fib retracement remains at $44.15. There has been some news from OPEC too this morning that has helped the retrace. They announced that they will meet "informally" on the sidelines at the IEF (International Energy Forum) conference in September. Also that they see demand for oil increasing in Q3 and Q4 and that the decline in the Oil price is only temporary and that higher prices should prevail during the rest of 2016.
In the short term $42.00 and $41.80 could now become a support levels with $42.50 the resistance level, then $43.20 and our target 2 over $44.00.
Publication source
---
HotForex information
HotForex reviews
December 8, 2016
It seems that everything is clear the ECB will extend its asset-purchasing program, and send the euro lower. But banks smell a rat in this announcement. The ECB should introduce more easing measures...
---
December 8, 2016
The currency market has lost some volume, as traders are closing their positions ahead of Christmas and New Year's celebrations. Investment funds are in no hurry to open new positions; they rather prefer to be actively trading in January...
---
December 7, 2016
The yield of the Italian sovereign debt fell on Tuesday as the focus moved to the political uncertainty on the market. After Renzi's crash on the weekend and the expectations of the ECB measures to deal with the possible fallout of the financial markets...
---