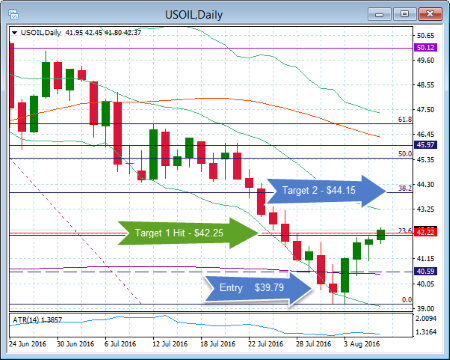 August 8, 2016
---
On Friday (August 5) I posted my analysis from overnight and the webinar on Thursday for the Oil market and how we were expecting a bounce and retrace from the significant two week decline.
This morning Target 1 was achieved at $42.25 from our entry at $39.79. Target 2 and the 38.2 Fib retracement remains at $44.15. There has been some news from OPEC too this morning that has helped the retrace. They announced that they will meet "informally" on the sidelines at the IEF (International Energy Forum) conference in September. Also that they see demand for oil increasing in Q3 and Q4 and that the decline in the Oil price is only temporary and that higher prices should prevail during the rest of 2016.
In the short term $42.00 and $41.80 could now become a support levels with $42.50 the resistance level, then $43.20 and our target 2 over $44.00.
Publication source
---
HotForex information
HotForex reviews
September 28, 2016
US Dollar can't get out of the range of 95.00-95.50 after the FED has investors waiting for the results of Algiers meeting, where Oil officials will try to work out measures to level energy market volatility...
---
September 28, 2016
As discussed yesterday, markets will increasingly obsess about the US election over the coming few weeks, but beneath that the economy will determine if the Fed hikes interest rates before the year is out...
---
September 28, 2016
Financial markets may experience extreme levels of volatility in the coming weeks as the catalytic combination of sporadic oil prices, ongoing Brexit anxieties and anticipation ahead of the U.S presidential election leave investors on edge...
---