8 August, 2016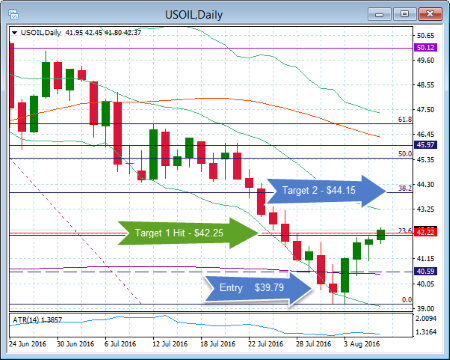 On Friday (August 5) I posted my analysis from overnight and the webinar on Thursday for the Oil market and how we were expecting a bounce and retrace from the significant two week decline.
This morning Target 1 was achieved at $42.25 from our entry at $39.79. Target 2 and the 38.2 Fib retracement remains at $44.15. There has been some news from OPEC too this morning that has helped the retrace. They announced that they will meet "informally" on the sidelines at the IEF (International Energy Forum) conference in September. Also that they see demand for oil increasing in Q3 and Q4 and that the decline in the Oil price is only temporary and that higher prices should prevail during the rest of 2016.
In the short term $42.00 and $41.80 could now become a support levels with $42.50 the resistance level, then $43.20 and our target 2 over $44.00.
---
Source link
Stock markets mostly moved higher
China and Hong Kong alongside other markets were closed for Lunar New Year holidays, which muted trading, but the Nikkei gained 1.19%...
Dollar traded mostly softer
The U.S. currency has been correlating inversely with global stock market direction of late on the causation that risk-on phases have seen investors...
US durable goods rebounds
U.S. personal income rose 0.3% in November with spending up 0.6%. The 0.4% increase in October income was not revised. The 0.3% spending increase..
---
---