11 April, 2017
The U.S. dollar lost ground yesterday amid a slow trading day with lack of any clear catalysts for the markets. The speech by Janet Yellen did not offer anything new for the markets as the Federal Reserve Chairwoman said that the Fed was committed to raising interest rates gradually.
Looking ahead, the economic calendar will be focusing on the UK's monthly inflation figures. Following a strong rally in the inflation rate, economists surveyed are expecting to see a soft pull back from February highs. In the U.S. trading session, FOMC member Neel Kashkari is expected to speak.
EURUSD intra-day analysis
EURUSD (1.0585): EURUSD closed in the positive yesterday after close to three consecutive sessions of bearish declines. However, the price has slipped below the 1.0600 level, and a move above this price point is required in order to ascertain any gains to the upside. 1.0700 resistance level will be the likely target to the upside, but further gains could see the upside move towards 1.0800 where a test of resistance is pending.
USDJPY intra-day analysis
USDJPY (110.60): USDJPY continues to remain range bound as yesterday's price action saw another decline to the support level at 110.70 - 110.50. USDJPY is seen currently testing this support level which has been repeatedly tested over the past few weeks. A break down below 110.50 could no doubt extend the declines toward the support level at 110.00. However, we can expect to see a short-term bounce once again off this support level as USDJPY is likely to target 112.00 resistance level.
XAUUSD intra-day analysis
XAUUSD (1256.26): Gold prices slipped below 1257.60 and tested the support at 1250.00 which has offered support to the prices. Price action is showing signs of a consolidation into the broadening wedge pattern which potentially signals a downside move. Therefore, we can expect gold prices to break past 1257.60 resistance level once again, or at the very least, expect a reversal around this region. Such a move could confirm the downside in gold which will see prices slip towards 1211.50 eventually.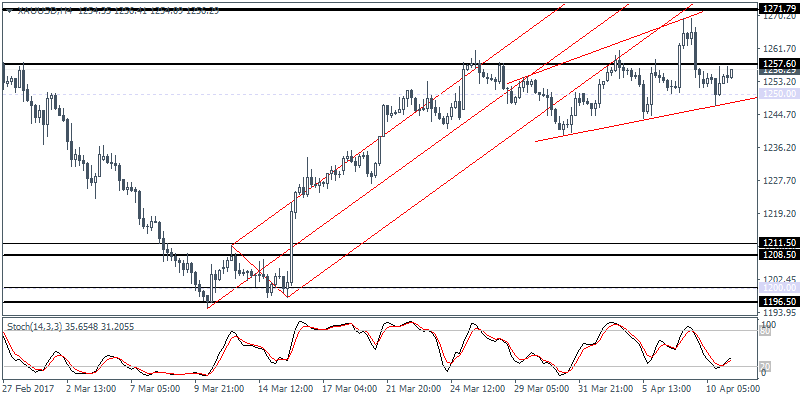 ---
Source link
---
---