One important influence that drives forex is the interest rate changes from eight of the world's most important central banks. Interest rate shifts represent a monetary, policy-based response as a result of economic indicators that assess the health of an economy. Most importantly, they possess the power to move the market immediately as one aspect of a country's fundamentals have now suddenly changed. Moreover, surprise rate changes may often make the biggest impact because these volatile moves can lead to quicker responses and higher profit levels. (Read Get To Know The Major Central Banks for background on these financial institutions.)

Interest Rate Basics
Interest rates impact currencies in the following manner: the greater the rate of return, the greater the interest accrued on currency invested and the higher the profit. (Read A Primer On The Forex Market for background information.)

Therefore, it is a valid strategy to borrow currencies with a lower interest rate in order to buy currencies that have a higher interest rate (This strategy is also known as the carry trade). However there is the risk that currency fluctuation may offset any interest-bearing rewards. If trading on the forex market were this easy, it would be highly lucrative for anyone armed with this knowledge. (Read more about this type of strategy in Currency Carry Trades Deliver.)
How Rates Are Calculated
Each central bank's board of directors controls the monetary policy of its country and the short-term prime interest rate that banks use to borrow from each other. When the economy is doing well, interest rates are hiked in order to curb inflation and when times are tough, cut rates to encourage lending and inject money into the economy.

Forex traders can gain clues into what the central bank (such as the U.S. Federal Reserve) will do by examining economic indicators mentioned in the previous section, such as:
The Consumer Price Index (CPI): Inflation
Retail Sales: Consumer spending
Non-farm Payrolls: Employment levels
(Read more about the CPI and other signposts of economic health in our Economic Indicators tutorial.)

Predicting Central Bank Rates
Using the data from these indicators and a rough assessment of the economy, a trader can create an estimate for the Fed's rate change. Generally speaking, as the indicators improve and the economy is doing well, rates will either need to be raised or, if the improvement is small, maintained. Likewise, significant drops in these indicators can mean a rate cut in order to encourage borrowing.
Beyond traditional economic indicators, there are two other areas that should be examined.

1. Major Announcements
Whenever the board of directors from a central bank is scheduled to make a public announcement, it will usually give some insight into how the bank views inflation.

For example, on July 16, 2008, U.S. Federal Reserve Chairman Ben Bernanke gave his semi-annual monetary policy testimony before the House Committee. As per a regular testimony, he read a prepared statement about the U.S. dollar's value and answered questions from committee members. (Read more about the head of the Fed in Ben Bernanke: Background And Philosophy.)

In general, Bernanke reported the U.S. dollar was in good shape and that the government was determined to stabilize it despite the looming fears of an impending recession that were influencing all other markets.

The 10am session (the 14:00 UTC point on the chart on figure 1) was widely followed by traders. Since the outlook was positive for the U.S. dollar, it was implied that the Federal Reserve would be raising interest rates soon. This caused the dollar to appreciate over the Euro.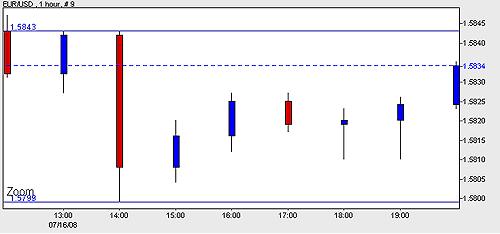 Figure 1: The EUR/USD declines in response to Fed's monetary policy testimony

Source: DailyFX

The EUR/USD declined 44 points over the course of one hour (good for the U.S. dollar), which would result in a $440 per lot profit for traders who acted on the announcement.

2. Forecast Analysis
Analyzing professional predictions can also be used to predict interest rate decisions. Since interest rates moves tend to be well anticipated before hand, major brokerages, financial institutions and professional traders will have a consensus estimate as to what the rate is.

A good rule of thumb for traders is to take four or five of these forecasts (which tend be very close numerically) and average them in order to gain a more accurate prediction.

What to Do When a Surprise Rate Occurs
On occasion, central banks can throw a curve ball and knock all predictions out of the park with a surprise rate hike or cut.

When this happens, you should know which direction the market will move. If there is a rate hike, the currency will appreciate, which means that traders will be buying it. If there is a cut, traders will probably be selling it and buying currencies with higher interest rates. Once you have determined this:

· Act quickly! Forex tends to move at lightning speeds when a surprise hits, because all traders will be competing in hopes of entering into a position (buy or sell depending on hike or cut) ahead of the masses. Doing so can lead to a significant profit if done correctly.

· Be aware of a volatile trend reversal. A trader's perception/emotions often affects the market at the onset of the data's release, but then logic comes into play and the trend will most likely continue back on its original path.

The following example illustrates the above three steps in action.

In July 2008, New Zealand's interest rate was 8.25%. For much of the previous quarter, the rate had been steady. The higher rate of return made the New Zealand Dollar (NZD) was a popular currency for buying.

In July, despite all other previous indications, the central bank decided to cut the rate to 8%. While the 0.25% drop seems minor, this move was interpreted as a sign that the central bank had fears of inflation. Traders started to sell the NZD.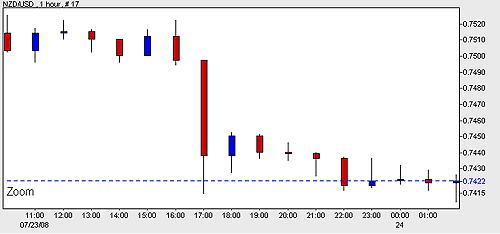 Figure 2: The NZD/USD drops in response to a rate cut by the Bank of New Zealand

Source: DailyFX

In about 10 minutes, the NZD/USD dropped from .7497 to .7414 - a total of 83 pips. Lucky traders that managed to sell just one lot of the currency pair would have profited $833.

This depreciation in NZD was relatively short-lived. It didn't take too longer before it returned back to its original upward trend. It was likely that traders realized that despite the rate cut, an interest rate of 8% was still higher than most other currencies.

Conclusion
Paying close attention to the news and analyzing the actions of central banks should be an important priority to forex traders. Changes in monetary policy will ultimately cause currency exchange rates to change. Understanding and anticipating these moves will allow you to identify trading opportunities.

Now that we touched upon one of the important news events, we will now discuss how to properly read and analyze a news release.
---
Source link
---
---