New Trading
Binary options trading attracts many traders, as it is simple, clear and profitable. It is suitable for beginners, because in case the trader makes a mistake, the losses can be limited. Binary option is a principle clear even to those who have never been dealing with such transactions or currencies before. Investors like this way of trading, as it allows fast and considerable earnings. Of course, it also has its shortcomings, but binary options advantages outweigh the disadvantages. It is possible to open a binary options demo account to try your hand in it first.
When opening a deal you expect either of the two outcomes: the option closes bringing you either profit or loss...
Advantages of Trading Binary Options
Ease. Comparing this type of trade to all existing today we can safely say this is the easiest. When opening a deal you expect either of the two outcomes: the option closes bringing you either profit or loss. The result is formed by the changes in the price direction. Once you can make a right forecast on the price and asset direction, you will be winning.
Acquisition. If you choose binary options, you can set the investment value by yourself, and you can trade assets you've never been thinking of before. The option price is fixed. In case the prediction was correct, you know how much you will earn; if it was wrong, you know how much you pay.
Unboundedness. Adjustments are unlimited, it is possible to buy an option at any time 24/7. On the contrary to the binaries, traditional options cannot provide such a wide range of assets. It is possible to trade online from home.
High profits. Out of all the types of trading this one is the most profitable: having concluded just one deal, you can earn between 75 and 81%, which is the maximum rate of return on the open market.
Short-term investments. Long term is the most unpleasant thing for any investor. If we talk about the usual options, their execution is too time consuming, whereas binary options are short-term and flexible.
Volatility. Trading binary options is much more profitable compared to the markets which are characterized by volatility; with binary options payments and profit are always fixed. Trading is done at the expense of investing in options, not assets.
A difference of one point. When a trader is operating on the foreign exchange market, he has to monitor the difference between the highest values for the buyer and the seller. To be successful in the binary options trading, a trader needs just a small alteration equal to one point, and he's in the money.
In binary options trading you always know the risks and payouts before you make a deal. Due to this you concentrate not on risk assessment, but on trading itself.
Before making a final choice, compare conditions of several companies, read reviews...
Options and brokers
Due to the popularity of this type of trading competition among brokers is extremely tough. New companies are doing their best to offer the most attractive and profitable conditions to the clients. Therefore traders get access to the new types of trades, optimal conditions and a wide range of assets. On our site you can check the rating of binary options brokers and find information about the conditions they offer.
Currently the most popular binary companies are 24Option and Optionyard which have well-elaborated trading conditions and a large variety of tools to operate on the terminal.
Some companies attract clients with bonuses and promotions, such as a bonus when opening a trading account. Before making a final choice, compare conditions of several companies, read reviews, e.g., on a well-known binary broker Cedar Finance, and others.
---
---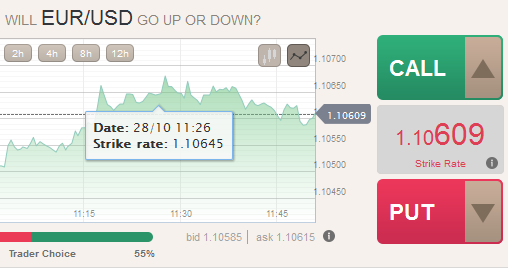 What is binary options strategy
Binary options are popular because of their simplicity and availability. Forex exchange is full of binary traders and brokers...
What is binary trading in forex?
In the world of developing technologies binary trading occupies its own niche. Many people make a shot at trading in forex in the hope of reward and that is not in vein. A binary option is an up-to-date tool and a very good solution both for beginner and advanced traders..