October 22, 2013
---
The main fundamental event for today is US labour market data release. Non-Farm Payrolls and unemployment rate will be published. These indices are the most important indicators of current economic conditions. They ought to be published on the 4th of October but due to the budget crisis the release has been postponed.
According to experts, the volume of new jobs will increase up to 180 000. If the forecast is right, the index will be growing three months in a row. We can verify the experts' estimation by checking another index — Unemployment Claims. In September the rate of the claims remained almost the same, fluctuating around levels of 305 000-309 000. So the optimism of the economists is justified, though the increase of new jobs may be less than expected.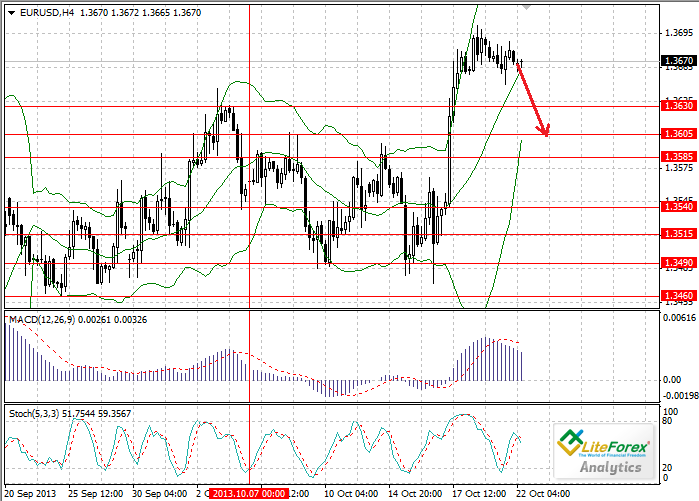 Unemployment rate in September will probably remain the same 7.3%. This is the lowest rate since January 2009; it indicates the recovery of the US economy.
Regarding the forecasts we would expect the US Dollar to strengthen against major currencies. The pair EUR/USD, for example, will fall down to the levels of 1.3630 and 1.3605.
Dmitriy Zolotov
Analyst of LiteForex Group of Companies
Publication source
---
LiteForex information
LiteForex reviews
September 29, 2016
The risk is increasing on the market ahead OPEC meeting in Algiers and Yellen testimonial, which will happen before the House panel. FED-fueled rally on gold starts to fizzle out as the December futures keep on a losing streak for a second day, finally dipping by 0.12% to 1,328.75...
---
September 28, 2016
The market's initial response to the US presidential election debate overnight was a clear sigh of relief. The Mexican Peso, which had hit a record low against the dollar just the day before, surged higher, as too did the Canadian dollar...
---
September 27, 2016
It hasn't been a great start for global equities in this last week of September, with European indices dropping between 1.0 to 1.5 per cent during Monday's morning session, mirroring a similar performance in Chinese and Japanese markets overnight...
---