October 22, 2013
---
The main fundamental event for today is US labour market data release. Non-Farm Payrolls and unemployment rate will be published. These indices are the most important indicators of current economic conditions. They ought to be published on the 4th of October but due to the budget crisis the release has been postponed.
According to experts, the volume of new jobs will increase up to 180 000. If the forecast is right, the index will be growing three months in a row. We can verify the experts' estimation by checking another index — Unemployment Claims. In September the rate of the claims remained almost the same, fluctuating around levels of 305 000-309 000. So the optimism of the economists is justified, though the increase of new jobs may be less than expected.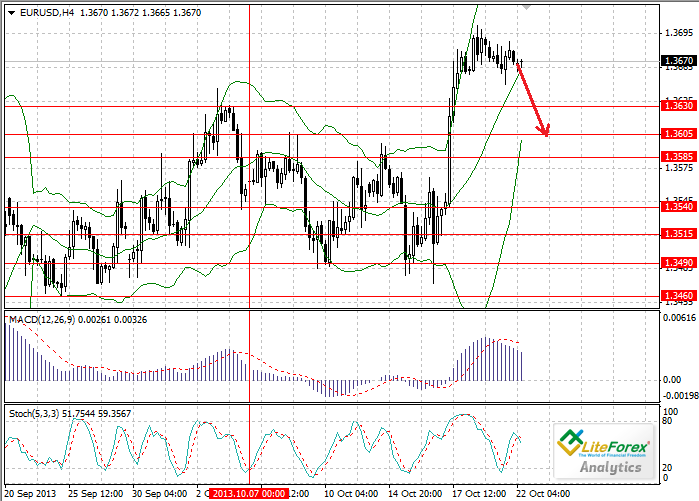 Unemployment rate in September will probably remain the same 7.3%. This is the lowest rate since January 2009; it indicates the recovery of the US economy.
Regarding the forecasts we would expect the US Dollar to strengthen against major currencies. The pair EUR/USD, for example, will fall down to the levels of 1.3630 and 1.3605.
Dmitriy Zolotov
Analyst of LiteForex Group of Companies
Publication source
---
LiteForex information
LiteForex reviews
December 6, 2016
The prices extend gains after OPEC's output cut deal brings short-term optimism. Forward market shows that the US oil producers are rushing to lock the profit, selling oil contracts for above $50 a barrel at the start of 2018...
---
December 5, 2016
The Italian referendum on constitutional reform saw voters reject the proposals in front of them, in a fairly decisive manner. As such, Italian PM Renzi will tender his resignation today and this became part of the issue...
---
December 2, 2016
The Oil price continued to push higher today reaching its highest level in over a year with some predicting that the OPEC deal reached yesterday was a game changer and further gains are expected...
---