October 24, 2013
---
The main news comes today from the New World. August Trade Balance and Unemployment Claims report will be published in USA.
Trade Balance is one of the most important indicators of economic conditions. It represents the ratio of country's imports and exports. This difference has been negative since long time, it means America imports more the exports. Trade deficit of the August should increase to the level of -39.5 billion dollars, which will affect Dollar badly.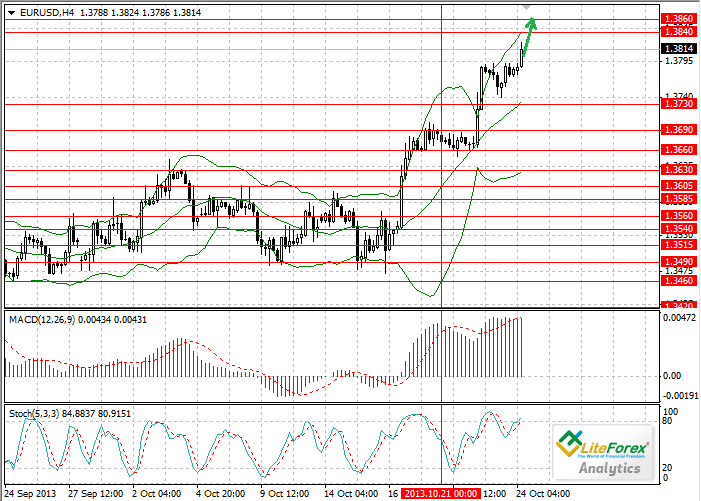 From the other hand weekly Unemployment Claims report may bring investors hope. After an abrupt rise of the indicator's rate at the beginning of the month it may slightly decline to the level of 343 000. However October's rate is still higher than the average summer numbers and the market may react negatively.
Regarding fundamental data, the pair EUR/USD is expected to rise up to the levels of 1.3840 and 1.3860.
Dmitriy Zolotov
Analyst of LiteForex Group of Companies
Publication source
---
LiteForex information
LiteForex reviews
September 23, 2016
The price of gold extended its rebound modestly on Thursday after the US Federal Reserve provided some key signals on Wednesday that, despite a considerable probability of one Fed rate hike by the end of this year...
---
September 22, 2016
The reaction seen in currency markets yesterday to respective central bank policy decisions was instructive of the change in dynamics that we're seeing. The BoJ enacted a number of changes to its policy regime...
---
September 21, 2016
The Bank of Japan delivered a whole heap of nothing at its policy meeting today, although some adjustments were made to its policy framework. If you take the time to read through these measures, then the impression is of a central bank that has largely lost the monetary plot...
---