November 8, 2013
---
The most important news for today is US labour market statistics. Non-Farm Payrolls and October unemployment rate will be published.
As you may remember, September Non-Farm Payrolls were disappointingly low. In addition to the recent budget crisis this fact plants doubts in investors' minds that the QE3 program won't be cut this year.
Forecasts for today's indicator are also unfavorable: new jobs should decrease to the level of 125 000. However unemployment claims were reducing this October from 374 000 to 340 000. These numbers bring hope that Non Farm-Payroll forecast may be understated.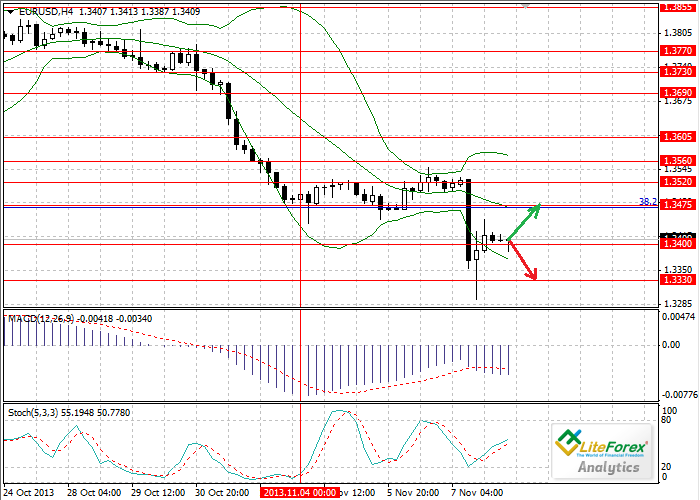 Unemployment level should change a little, from 7.2% to 7.3%, though whole year this index was falling.
Regarding fundamental data we expect high volatility of the EUR/USD. If experts are right, the pair will rise up to the level of 1.3475, otherwise we will witness fall down 1.3330.
Dmitriy Zolotov
Analist of LiteForex Group of Companies
Publication source
---
LiteForex information
LiteForex reviews
December 7, 2016
The oil price fell for the first time in 4 days today as skepticism creeped in over some OPEC member's commitment to keep to their end of the deal and cut production...
---
December 6, 2016
The prices extend gains after OPEC's output cut deal brings short-term optimism. Forward market shows that the US oil producers are rushing to lock the profit, selling oil contracts for above $50 a barrel at the start of 2018...
---
December 5, 2016
The Italian referendum on constitutional reform saw voters reject the proposals in front of them, in a fairly decisive manner. As such, Italian PM Renzi will tender his resignation today and this became part of the issue...
---