November 11, 2013
---
Current trend
Unified European currency continues to fall against American dollar this week. The decline of Euro is associated with the decision of European Central Bank to lower interest rate to 0.25% last Thursday.
Inflation in EU continues to decline, while economic indicators do not change, so reducing interest rate ECB has planned to encourage economic growth. Some experts assumed that the purpose of this decision is artificial reduction of Euro rate to boost exports. However, the chairman of ECB Mario Draghi hastened to assure investors that Euro rate did not play a key role for this decision. However, Euro rate continues to decline.
In the USA further fate of the quantitative easing program shall be determined in the near future, which will have additional pressure on Euro. Last week US GDP was above the forecast, which added confidence to the USD.
This week attention shall be paid to GDP in EU and Germany, preliminary data will become known on Thursday.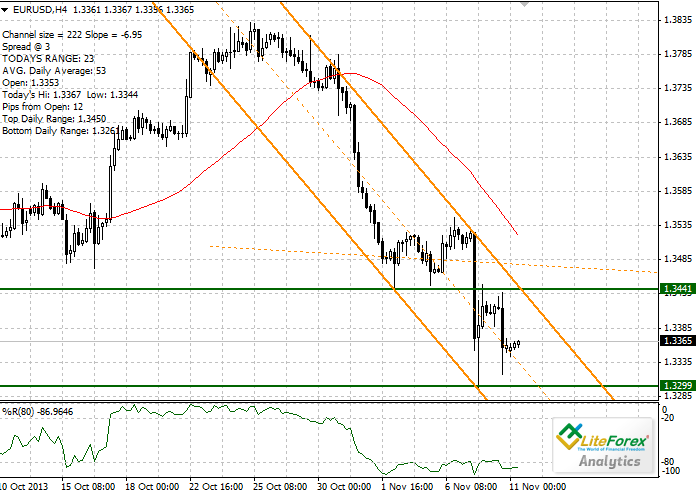 Support and resistance
The nearest resistance level on the four-hour chart is 1.3441. Support level is 1.3299.
Trading tips
It is recommended to open short positions after breakdown of the level of 1.3290 with the target of 1.3220 and stop-loss orders near 1.3330.
Dmitry Agurbash
Analyst of LiteForex Group of Companies
Publication source
---
LiteForex information
LiteForex reviews
December 7, 2016
The oil price fell for the first time in 4 days today as skepticism creeped in over some OPEC member's commitment to keep to their end of the deal and cut production...
---
December 6, 2016
The prices extend gains after OPEC's output cut deal brings short-term optimism. Forward market shows that the US oil producers are rushing to lock the profit, selling oil contracts for above $50 a barrel at the start of 2018...
---
December 5, 2016
The Italian referendum on constitutional reform saw voters reject the proposals in front of them, in a fairly decisive manner. As such, Italian PM Renzi will tender his resignation today and this became part of the issue...
---