November 15, 2013
---
Today we anticipate important news from the both sides of Atlantic: October CPI of Eurozone and Industrial Production in USA.
Consumer Prices index measures changes in the price level of a market basket of consumer goods and services and it is the main indicator of the inflation in the country. According to the forecasts the index may drop down to the level of 0.7%. Inflation in Europe has been decreasing almost a year now, so this data may strengthen Euro.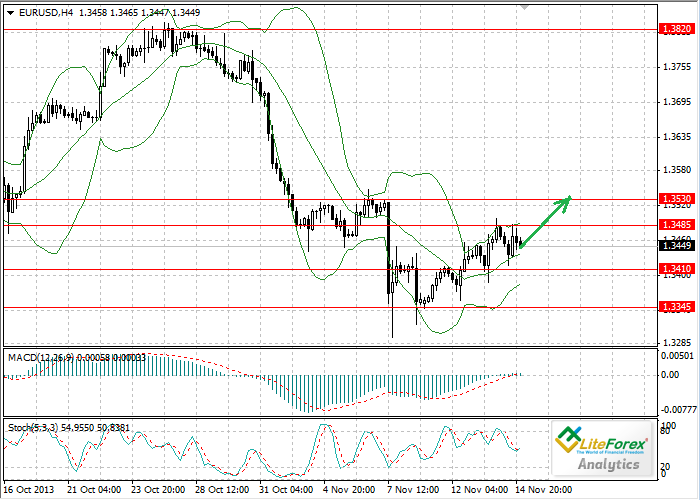 In USA Industrial Production data will be published today. This index measures the output of industrial sector of economy. Experts predict that the indicator will decrease by 0.4% in 4th quarter, which is much comparing to the rise in third quarter. Wholesale inventories are also growing, menacing further reduction of industrial production volumes.
Regarding fundamental data, we expect Euro to strengthen against its opponents and the pair EUR/USD to rise up to 1.3485 and 1.3530.
Dmitriy Zolotov
Analyst of LiteForex Group of Companies
Publication source
---
LiteForex information
LiteForex reviews
December 9, 2016
ECB board member Benoit Coeure commented the yesterday decision in a radio interview. The central bank announced QE tapering stressing that it does not mean less engagement...
---
December 8, 2016
The main challenge for markets today will be steering through the messages that emerge from the ECB meeting and press conference. Whereas the Fed meeting next week is seen as a near certainty in terms of its outcome, this is not the same for the ECB...
---
December 7, 2016
The oil price fell for the first time in 4 days today as skepticism creeped in over some OPEC member's commitment to keep to their end of the deal and cut production...
---