November 27, 2013
---
Current trend
The British Pound continues to trade in the ascending channel. The pair GBP/USD has gained 345 points in November and the last line of defense is a strong resistance level of 1.6258. When the pair approaches this level, the power of uptrend will likely weaken, giving a chance of technical correction or a change in the trend.
Despite gradual recovery of the British economy fundamental data of this week is not favourable for the Pound. Volume of consumer lending fell to 940 million in October. Such rapid fall is a sign of slowdown of business activity in the country. Meanwhile the data on mortgage lending is on the contrary demonstrates positive dynamics: the index reached 9.9 billion pounds in October-the record value since 2009.
British macro-economic statistics will add volatility to the Pound today: GDP and index of retail sales will become known.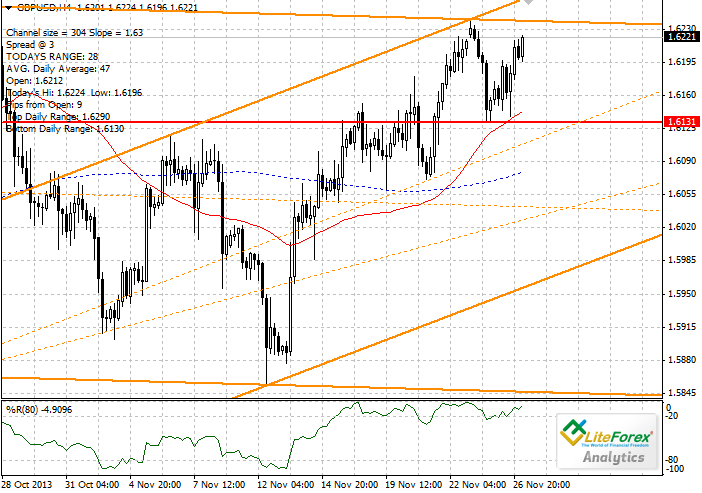 Support and resistance
On the four-hour chart the nearest resistance level is recent highs of 1.6230. Next resistance level and the target of the "bulls" is 1.6258. Support level is 1.6131
Trading tips
It is recommended to open long positions after breakdown of the level of 1.6230 with the target of 1.6450 and stop-loss near 1.6200
Dmitry Agurbash
Analyst of LiteForex Group of Companies
Publication source
---
LiteForex information
LiteForex reviews
February 17, 2017
The gold price has racked up its 2nd straight day of gains today on the back of US dollar weakness and doubts over an interest rate hike next month from the US Federal Reserve...
---
February 16, 2017
The Euro is slowly going down and this is not brought on by the Eurozone situation. Instead, this is fueled by the U.S. Dollar. Yesterday, Janet Yellen gave a speech in the Senate Banking Committee emphasising the fact that it Is not quite right to use the wait-and-see stance regarding the interest rate hike...
---
February 14, 2017
The Euro has come under pressure late in the European session today, after analysts warned of the huge costs that France would face should they decide to ditch the European currency...
---