November 27, 2013
---
Current trend
The British Pound continues to trade in the ascending channel. The pair GBP/USD has gained 345 points in November and the last line of defense is a strong resistance level of 1.6258. When the pair approaches this level, the power of uptrend will likely weaken, giving a chance of technical correction or a change in the trend.
Despite gradual recovery of the British economy fundamental data of this week is not favourable for the Pound. Volume of consumer lending fell to 940 million in October. Such rapid fall is a sign of slowdown of business activity in the country. Meanwhile the data on mortgage lending is on the contrary demonstrates positive dynamics: the index reached 9.9 billion pounds in October-the record value since 2009.
British macro-economic statistics will add volatility to the Pound today: GDP and index of retail sales will become known.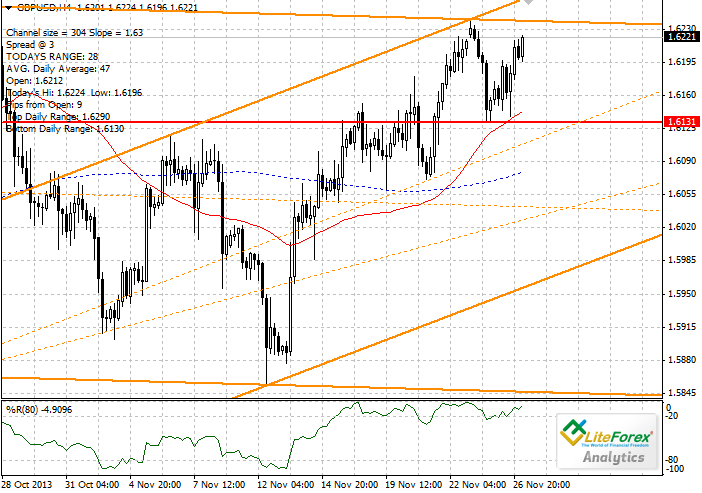 Support and resistance
On the four-hour chart the nearest resistance level is recent highs of 1.6230. Next resistance level and the target of the "bulls" is 1.6258. Support level is 1.6131
Trading tips
It is recommended to open long positions after breakdown of the level of 1.6230 with the target of 1.6450 and stop-loss near 1.6200
Dmitry Agurbash
Analyst of LiteForex Group of Companies
Publication source
---
LiteForex information
LiteForex reviews
January 19, 2017
Let's check what's going on with Oil before turning our attention to the Russian Ruble. "Black gold" is forming a reversal pattern next to the key level of 52.10. The only matter is that this pattern is above the horizontal level, but the 52.10 level can potentially become the neckline of our pattern...
---
January 18, 2017
Friday, January 20, 2017 will mark the historic inauguration of what promises to be a highly unconventional US presidential administration...
---
January 17, 2017
Oil has spiked higher on Al Falih comments in Davos (Saudi oil minister). He said during a panel discussion at WEF in Davos that there will be inflation in the cost of doing business in the oil industry, following the squeeze that accompanied the decline in crude prices...
---