November 27, 2013
---
Current trend
The British Pound continues to trade in the ascending channel. The pair GBP/USD has gained 345 points in November and the last line of defense is a strong resistance level of 1.6258. When the pair approaches this level, the power of uptrend will likely weaken, giving a chance of technical correction or a change in the trend.
Despite gradual recovery of the British economy fundamental data of this week is not favourable for the Pound. Volume of consumer lending fell to 940 million in October. Such rapid fall is a sign of slowdown of business activity in the country. Meanwhile the data on mortgage lending is on the contrary demonstrates positive dynamics: the index reached 9.9 billion pounds in October-the record value since 2009.
British macro-economic statistics will add volatility to the Pound today: GDP and index of retail sales will become known.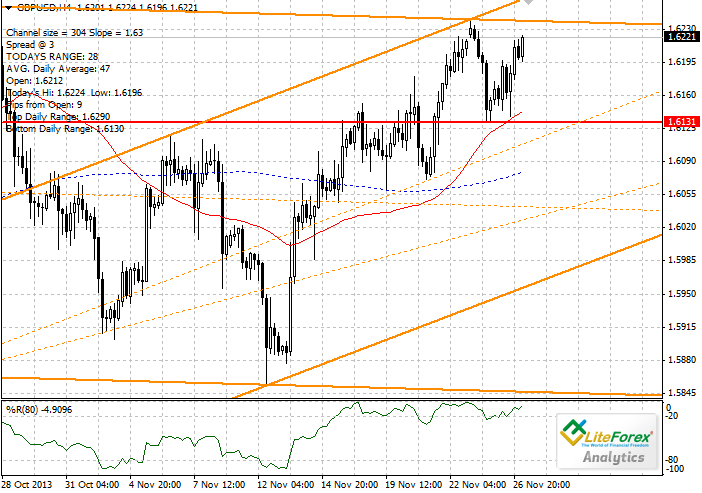 Support and resistance
On the four-hour chart the nearest resistance level is recent highs of 1.6230. Next resistance level and the target of the "bulls" is 1.6258. Support level is 1.6131
Trading tips
It is recommended to open long positions after breakdown of the level of 1.6230 with the target of 1.6450 and stop-loss near 1.6200
Dmitry Agurbash
Analyst of LiteForex Group of Companies
Publication source
---
LiteForex information
LiteForex reviews
September 23, 2016
The price of gold extended its rebound modestly on Thursday after the US Federal Reserve provided some key signals on Wednesday that, despite a considerable probability of one Fed rate hike by the end of this year...
---
September 22, 2016
The reaction seen in currency markets yesterday to respective central bank policy decisions was instructive of the change in dynamics that we're seeing. The BoJ enacted a number of changes to its policy regime...
---
September 21, 2016
The Bank of Japan delivered a whole heap of nothing at its policy meeting today, although some adjustments were made to its policy framework. If you take the time to read through these measures, then the impression is of a central bank that has largely lost the monetary plot...
---