December 2, 2013
---
Current trend
Despite negative British macro-statistics, the pair GBP/USD was steadily growing last week, breaking down important resistance levels. It became known that British consumer confidence index fell to the level of –12 points; mortgage lending level was below the forecast of 68.6 points, declining to 67.7 points. Despite economic problems in EU, demand for the Pound continues to increase because investors do not feel confidence to the USD.
Business activity indices in the manufacturing sectors of the UK and US are scheduled for the release today. It is also expected that the head of the US Fed Ben Bernanke will give a speech today. It is assumed that British PMI will increase, which will trigger the rise in the Pound.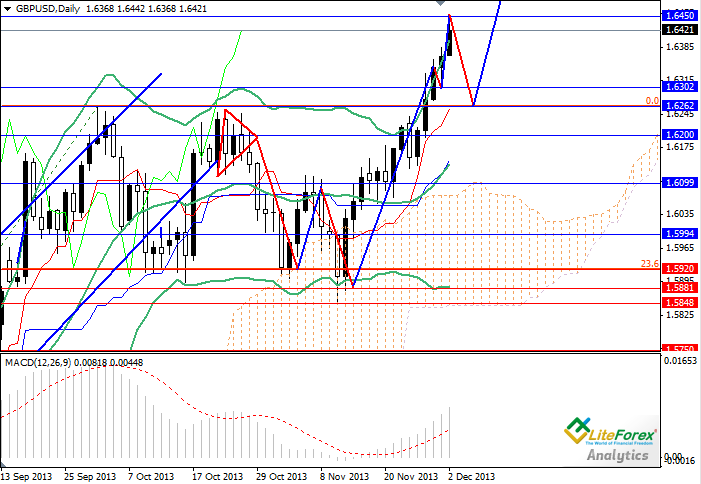 Support and resistance
In the medium term ascending movement can reach the key resistance level of 1.6600. Do not forget that following long-term growth, the pair will inevitably experience correction.
Support levels: 1.6300, 1.6260 and 1.6200.
Resistance levels: 1.6450 and 1.6600.
Trading tips
In the current situation it is advisable to place buy orders with profit taking at the level of 1.6600. In view of possible downward correction it makes sense to place pending buy orders at the levels of 1.6300 and 1.6270 with profit taking at the level of 1.6600.
Dmitry Likhachev
Analyst of LiteForex Group of Companies
Publication source
---
LiteForex information
LiteForex reviews
September 23, 2016
The price of gold extended its rebound modestly on Thursday after the US Federal Reserve provided some key signals on Wednesday that, despite a considerable probability of one Fed rate hike by the end of this year...
---
September 22, 2016
The reaction seen in currency markets yesterday to respective central bank policy decisions was instructive of the change in dynamics that we're seeing. The BoJ enacted a number of changes to its policy regime...
---
September 21, 2016
The Bank of Japan delivered a whole heap of nothing at its policy meeting today, although some adjustments were made to its policy framework. If you take the time to read through these measures, then the impression is of a central bank that has largely lost the monetary plot...
---