December 2, 2013
---
Current trend
Despite negative British macro-statistics, the pair GBP/USD was steadily growing last week, breaking down important resistance levels. It became known that British consumer confidence index fell to the level of –12 points; mortgage lending level was below the forecast of 68.6 points, declining to 67.7 points. Despite economic problems in EU, demand for the Pound continues to increase because investors do not feel confidence to the USD.
Business activity indices in the manufacturing sectors of the UK and US are scheduled for the release today. It is also expected that the head of the US Fed Ben Bernanke will give a speech today. It is assumed that British PMI will increase, which will trigger the rise in the Pound.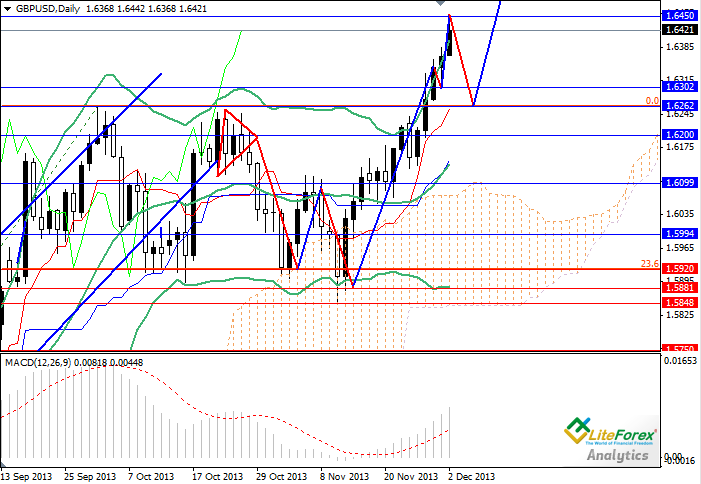 Support and resistance
In the medium term ascending movement can reach the key resistance level of 1.6600. Do not forget that following long-term growth, the pair will inevitably experience correction.
Support levels: 1.6300, 1.6260 and 1.6200.
Resistance levels: 1.6450 and 1.6600.
Trading tips
In the current situation it is advisable to place buy orders with profit taking at the level of 1.6600. In view of possible downward correction it makes sense to place pending buy orders at the levels of 1.6300 and 1.6270 with profit taking at the level of 1.6600.
Dmitry Likhachev
Analyst of LiteForex Group of Companies
Publication source
---
LiteForex information
LiteForex reviews
December 9, 2016
ECB board member Benoit Coeure commented the yesterday decision in a radio interview. The central bank announced QE tapering stressing that it does not mean less engagement...
---
December 8, 2016
The main challenge for markets today will be steering through the messages that emerge from the ECB meeting and press conference. Whereas the Fed meeting next week is seen as a near certainty in terms of its outcome, this is not the same for the ECB...
---
December 7, 2016
The oil price fell for the first time in 4 days today as skepticism creeped in over some OPEC member's commitment to keep to their end of the deal and cut production...
---