December 4, 2013
---
The most important fundamental data for today are revised GDP and retail sales in Eurozone.
Gross Domestic Product measures the value of all the finished goods and services produced within a country's borders. According to the forecast, the indicator will increase by 0.1%, in comparison with the 0.3% in second quarter. Weak growth of GDP is determined by the high unemployment rate, in September it hit highs at 12.2%. Lack of income leads to the spending reduction and lowers GDP volume.
Forecast for Retail Sales looks promising. Monthly indicator will probably rise as well as annual one (up to 0.0% and 0.9% respectively). However high unemployment rate may interfere with the index dynamics and real Sales will be lower than expected.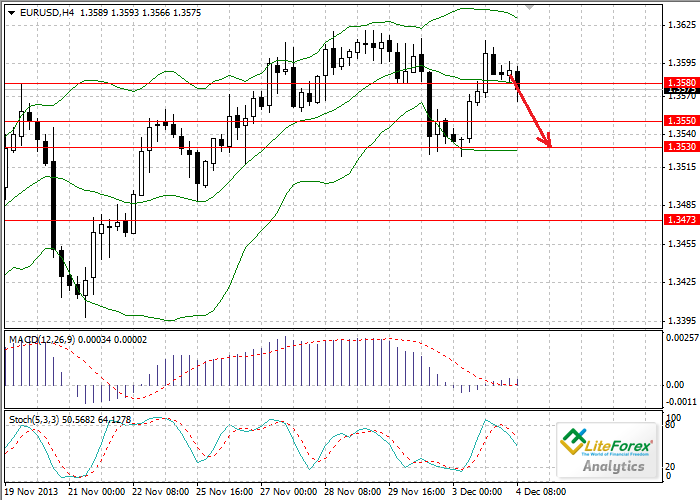 Regarding fundamental data we expect Euro to weaken today and the pair EUR/USD to go down to the levels of 1.3550 and 1.3530.
Dmitriy Zolotov
Analyst of LiteForex Group of Companies
Publication source
---
LiteForex information
LiteForex reviews
September 30, 2016
Looking at the hourly chart, the pair still fighting to overtake 1.1235 barrier, which is considered as the near-term resistance for the single currency...
---
September 29, 2016
The risk is increasing on the market ahead OPEC meeting in Algiers and Yellen testimonial, which will happen before the House panel. FED-fueled rally on gold starts to fizzle out as the December futures keep on a losing streak for a second day, finally dipping by 0.12% to 1,328.75...
---
September 28, 2016
The market's initial response to the US presidential election debate overnight was a clear sigh of relief. The Mexican Peso, which had hit a record low against the dollar just the day before, surged higher, as too did the Canadian dollar...
---