December 4, 2013
---
The most important fundamental data for today are revised GDP and retail sales in Eurozone.
Gross Domestic Product measures the value of all the finished goods and services produced within a country's borders. According to the forecast, the indicator will increase by 0.1%, in comparison with the 0.3% in second quarter. Weak growth of GDP is determined by the high unemployment rate, in September it hit highs at 12.2%. Lack of income leads to the spending reduction and lowers GDP volume.
Forecast for Retail Sales looks promising. Monthly indicator will probably rise as well as annual one (up to 0.0% and 0.9% respectively). However high unemployment rate may interfere with the index dynamics and real Sales will be lower than expected.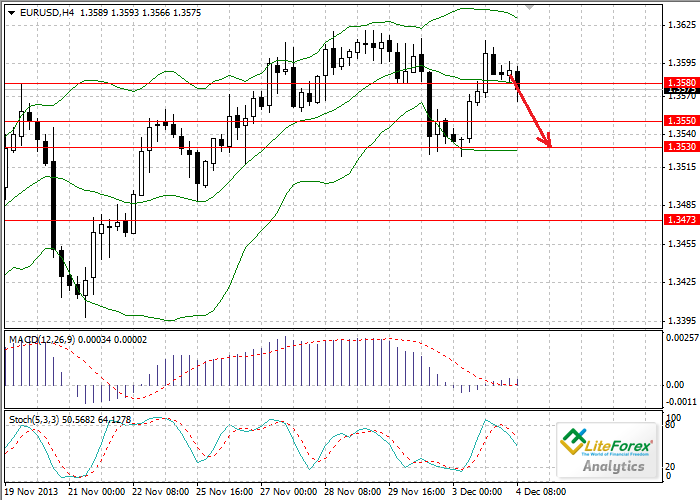 Regarding fundamental data we expect Euro to weaken today and the pair EUR/USD to go down to the levels of 1.3550 and 1.3530.
Dmitriy Zolotov
Analyst of LiteForex Group of Companies
Publication source
---
LiteForex information
LiteForex reviews
December 2, 2016
The Oil price continued to push higher today reaching its highest level in over a year with some predicting that the OPEC deal reached yesterday was a game changer and further gains are expected...
---
November 29, 2016
The Euro was under further pressure today against the US dollar on the back of political instability in Italy and, bringing it closer to parity with its American counterpart...
---
November 28, 2016
The US is back to the markets in full swing today as investors return from the long weekend and while this may have a major impact on the markets (given the fact that US bonds and US dollar had such a massive influence on global markets recently) other factors dominate in the calendar with the US being present...
---