5 December, 2013
This Thursday is full of macroeconomic releases: ECB and Bank of England will decide on interest rate, in USA preliminary GDP data will be published.
Most probably BOE won't change the interest rate, because unemployment rate hasn't reached the goal of 7%. All this year the unemployment has been falling, but hit the lows at 7.6%, and Mark Carney thinks it's not enough.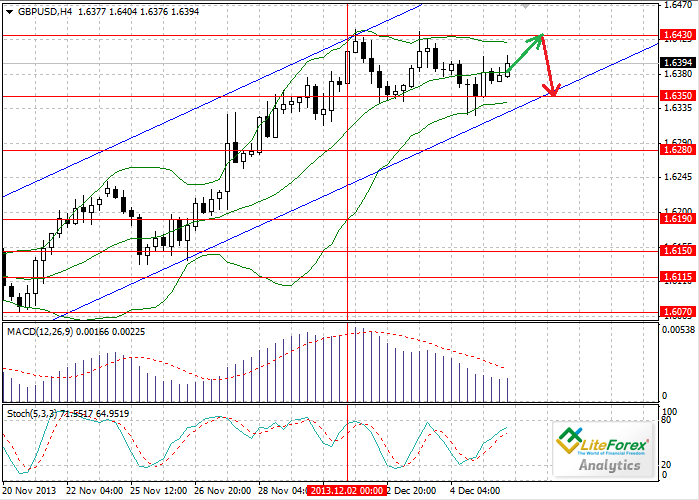 George Osborne will give a speech in lower Chamber of the UK Parliament. He is going to present a forecast or the economic growth of the country for the next year. UK economic system has improved considerably this half a year: national debt has decreased by 13%, and budget deficit — by 10%; GDP exceeded last year forecasts and reached the level of 1.5%. Osborne may mark up estimated GDP for the next year from 0.6% to 2.3%, and lower the national debt from 120 to 105 billion pounds.
ECB won't bring us serious changes, because the interest rate has been already lowered down to 0.25% in November. However, the speeches of ECB members may clarify the intentions of regulator.
In USA preliminary GDP for third quarter is going to be released. According to forecasts, the value will be the highest since 2011 and reach the level of 3.0%. Optimism of the investors is well justified, the recovery of American economy is reflected in fundamental statistics. Beige Book placed on the record economic growth of all the regions in USA in October and November. If GDP stays true to the expectations, the Dollar will strengthen against its opponents.
During the day the pair GBP/USD will probably rise up to the level of 1.6430, but then will fall down to the level of 1.6350.
Dmitriy Zolotov
Analyst of LiteForex Group of Companies
---
Source link
---
---