December 11, 2013
---
Current trend
The British Pound continues to strengthen against the USD, following comment of the chairman of the Bank of England Mark Carney that British economy has potential for steady growth in Future. The pair GBP/USD has already reached two-year highs at the level of 1.6465; however further upward movement can be difficult. The British currency will need strong macro-economic momentum that will trigger the rise in GBP/USD rate above this strong resistance level.
In the afternoon, attention shall be focused on the speech of the member of Monetary Policy Committee Martin Weale that can provide a required growth driver to the Pound.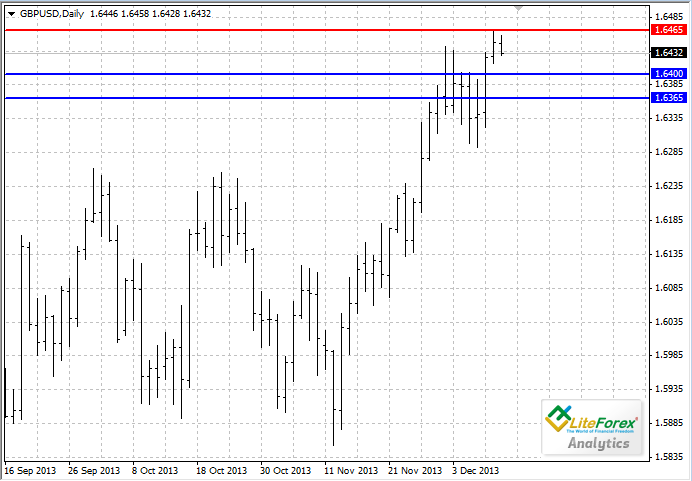 Support and resistance
Resistance levels are the local highs of 1.6465 and 1.6570. Support levels: 1.6400 and 1.6365.
Trading tips
In the medium-term it is advisable to place short positions within corrective movement from resistance level of 1.6465 with the target of 1.6365.
Vadim Smarzh
Analyst of LiteForex Group of Companies
Publication source
---
LiteForex information
LiteForex reviews
September 23, 2016
The price of gold extended its rebound modestly on Thursday after the US Federal Reserve provided some key signals on Wednesday that, despite a considerable probability of one Fed rate hike by the end of this year...
---
September 22, 2016
The reaction seen in currency markets yesterday to respective central bank policy decisions was instructive of the change in dynamics that we're seeing. The BoJ enacted a number of changes to its policy regime...
---
September 21, 2016
The Bank of Japan delivered a whole heap of nothing at its policy meeting today, although some adjustments were made to its policy framework. If you take the time to read through these measures, then the impression is of a central bank that has largely lost the monetary plot...
---