December 20, 2013
---
Today investors will be able to estimate the economic growth of major countries: USA and UK. GDP data of both countries for the third quarter are going to be published. The indicator measures the value of all the finished goods and services produced within a country's borders as well as investments and export.
UK GDP is probably going to increase up to 0.8% in third quarter and reach the level of 1.5% in 2013. Positive stats are no surprise for the investors because preliminary numbers were the same. Fundamental data are also quite optimistic. October's unemployment rate has dropped down to 7.4%, the lowest rate since 2009. However, today's report of Bank of England reveals that national economy is not fully recovered and GDP growth is determined by weakness of UK trading partners. The report shuts out of the hope of changes in monetary policy.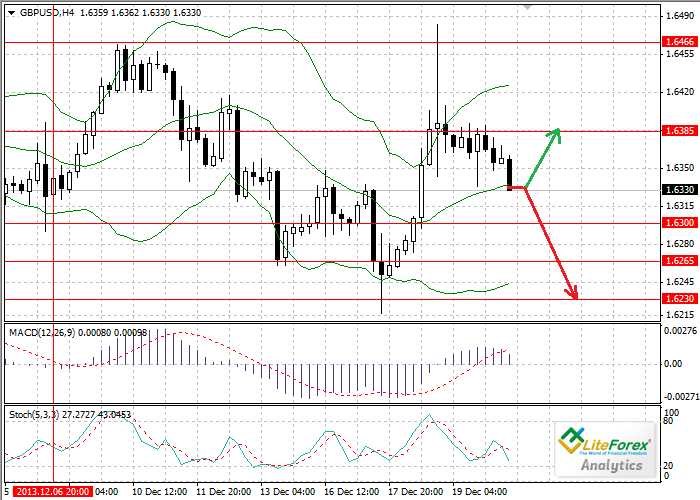 According to the forecasts, Gross Domestic Product in USA will grow up to the level of 3.6% in third quarter, the highest rate since 2010. The growth of US economy has been confirmed by the QE3 program reduction. However, the increase of GDP indicator has been determined not by the demand of consumers but by the increase of goods in storage, which can badly affect production volumes.
Regarding fundamental data we expect the pair GBP/USD to ascend to the level of 1.6385, but then drop down to the levels of 1.6300, 1.6265 and even 1.6230.
Dmitriy Zolotov
Analyst of LiteForex Groups of Companies
Publication source
---
LiteForex information
LiteForex reviews
September 29, 2016
The risk is increasing on the market ahead OPEC meeting in Algiers and Yellen testimonial, which will happen before the House panel. FED-fueled rally on gold starts to fizzle out as the December futures keep on a losing streak for a second day, finally dipping by 0.12% to 1,328.75...
---
September 28, 2016
The market's initial response to the US presidential election debate overnight was a clear sigh of relief. The Mexican Peso, which had hit a record low against the dollar just the day before, surged higher, as too did the Canadian dollar...
---
September 27, 2016
It hasn't been a great start for global equities in this last week of September, with European indices dropping between 1.0 to 1.5 per cent during Monday's morning session, mirroring a similar performance in Chinese and Japanese markets overnight...
---