December 20, 2013
---
Today investors will be able to estimate the economic growth of major countries: USA and UK. GDP data of both countries for the third quarter are going to be published. The indicator measures the value of all the finished goods and services produced within a country's borders as well as investments and export.
UK GDP is probably going to increase up to 0.8% in third quarter and reach the level of 1.5% in 2013. Positive stats are no surprise for the investors because preliminary numbers were the same. Fundamental data are also quite optimistic. October's unemployment rate has dropped down to 7.4%, the lowest rate since 2009. However, today's report of Bank of England reveals that national economy is not fully recovered and GDP growth is determined by weakness of UK trading partners. The report shuts out of the hope of changes in monetary policy.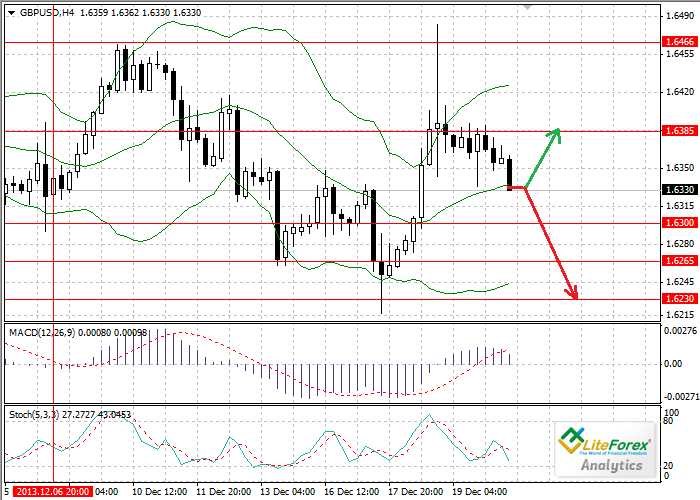 According to the forecasts, Gross Domestic Product in USA will grow up to the level of 3.6% in third quarter, the highest rate since 2010. The growth of US economy has been confirmed by the QE3 program reduction. However, the increase of GDP indicator has been determined not by the demand of consumers but by the increase of goods in storage, which can badly affect production volumes.
Regarding fundamental data we expect the pair GBP/USD to ascend to the level of 1.6385, but then drop down to the levels of 1.6300, 1.6265 and even 1.6230.
Dmitriy Zolotov
Analyst of LiteForex Groups of Companies
Publication source
---
LiteForex information
LiteForex reviews
January 18, 2017
Friday, January 20, 2017 will mark the historic inauguration of what promises to be a highly unconventional US presidential administration...
---
January 17, 2017
Oil has spiked higher on Al Falih comments in Davos (Saudi oil minister). He said during a panel discussion at WEF in Davos that there will be inflation in the cost of doing business in the oil industry, following the squeeze that accompanied the decline in crude prices...
---
January 16, 2017
A speech from Theresa May is one of the key events for financial markets this week and certainly the most relevant for the British pound. Primie Minister is about to deliver a speech on UK's stance and conditions ahead of the triggering article 50 and beginning the Brexit negotiations...
---