January 22, 2014
---
Today important stats come from UK: Claimant Count Change and Unemployment Rate.
The number of unemployed is measured by the unemployment claims. December's indicator is going to decrease by another 35 000, which is still too many comparing to the annual average.
November's unemployment rate is expected to drop down to the level of 7.3% approaching the goal of 7.0%. According to Mark Carney, if unemployment rate reaches 7%, Bank of England will revise monetary policy and interest rate. However, the situation in regions is not so bright. The report of Trades Union Congress revealed that apart from London and South-East part of the country regional unemployment rate stays the same. If BOA considers these facts, interest rate won't be changed anytime soon.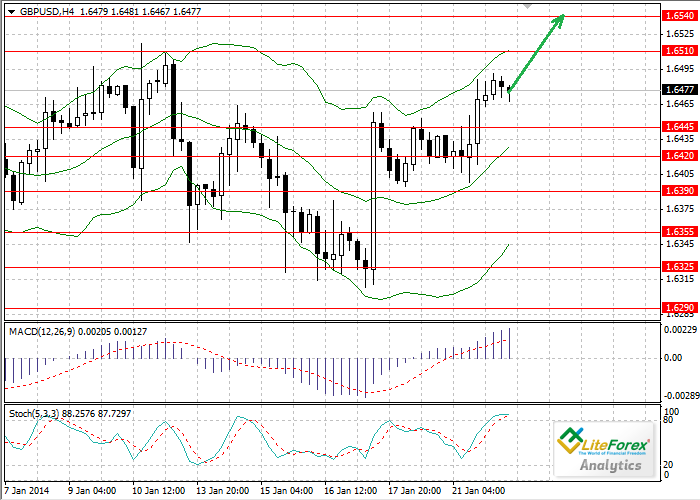 Positive stats from UK labour market may strengthen the Pound and the pair GBP/USD will probably go up to the levels of 1.6510 and 1.6540.
Dmitriy Zolotov
Analyst of LiteForex Group of Companies
Publication source
---
LiteForex information
LiteForex reviews
December 2, 2016
The Oil price continued to push higher today reaching its highest level in over a year with some predicting that the OPEC deal reached yesterday was a game changer and further gains are expected...
---
November 29, 2016
The Euro was under further pressure today against the US dollar on the back of political instability in Italy and, bringing it closer to parity with its American counterpart...
---
November 28, 2016
The US is back to the markets in full swing today as investors return from the long weekend and while this may have a major impact on the markets (given the fact that US bonds and US dollar had such a massive influence on global markets recently) other factors dominate in the calendar with the US being present...
---