The AUDNZD cross this morning was tipped to be the big one to watch as the RBNZ was set to announce its rates. A lot of people picked a rate rise, or at least one very soon or perhaps next month – I'll admit, even I was expecting something – the reality was far from what most expected though.
The RBNZ decided against lifting rates at this present time due to the current market conditions, and as they wanted inflation to lift slightly further in the 2% range; which they expect will happen in he coming months. All around though, the RBNZ yet again talked up the economic strength of the New Zealand economy, 'as GDP grew 3.5 percent in the year to September'. This number is expected to keep on going into the new year and at least till the end, as the Christchurch rebuild weighs heavily on GDP growth.
Despite no talk about the currency conditions, one has to wonder if this also played a part. As the current government has been vocal about the high AUDNZD cross rate, which is likely to affect exports as the Australian economy is New Zealand's largest trading partner. With an export orientated economy, it's likely that some decisions around the official cash rate took into consideration the recent high flying stature of the Kiwi.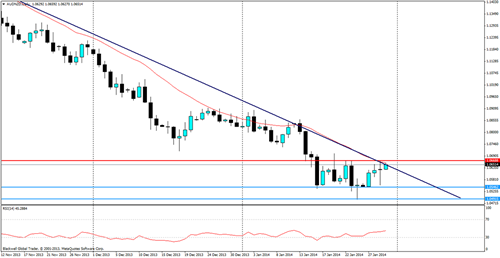 Source: Blackwell Trader
The AUDNZD pair though is looking very aggressive in terms of technical trading. Current market technicals show a strong bearish trend line which has been in play for some time. What is interesting as of today's announcement, and the resulting market actions, is that the current 20 day Moving Average (MA) is acting as dynamic resistance. This enables intra day traders a potential point to trade off in the volatile pair.
Current actual support levels can be found at 1.0546 and 1.0491, though it may take some time to push back down to these levels. While the traditional resistance level can be found at 1.0668, it's unlikely to come into play if traders push through the current trend line and the 20 day MA, which I see as unlikely given the past 24 hours of trading.
Overall, the AUDNZD is looking volatile in the next 24 hours, as NZ Trade Balance data is due out; which will take into account the recent high valuation of the AUDNZD cross, I am sure. This is expected to be positive based on current economic forecasts, if not a little over ambitious. However, opportunities are still abound, in terms of trading, especially based on today's movements.
Written by Alex Gurr, Currency Analyst with Blackwell Global.