There were no new macroeconomic data in the U.S. on Monday. The decline in the Dollar Index (USDIDX) continued with low activity due to the weekend in Japan. Today at 15-00 GMT (0) we expect the first speech of a new Fed chief, Janet Yellen. It will be positive for the dollar, if plans of further reduction of government bonds redemption are confirmed. The press release of her performances is expected at 13-30 GMT (0). Besides it today there are the data durable goods coming out at 15-00 GMT (0). The forecast is neutral. Note that the most important U.S. economic indicators this week come out on Thursday (retail sales). They are expected to be negative. This puts pressure on the U.S. dollar.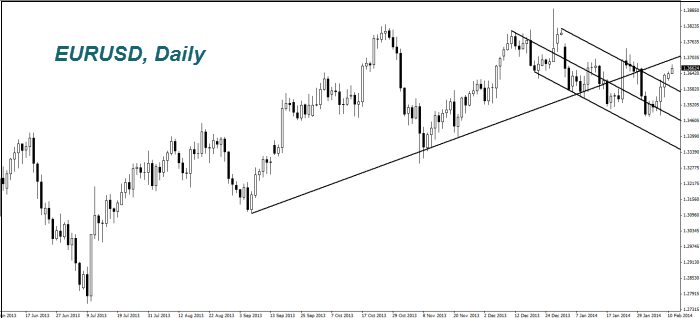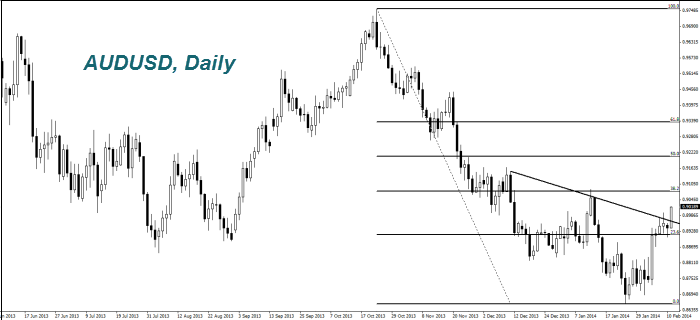 The Australian Dollar (AUDUSD) updated its monthly maximum due to the positive business climate index from the National Bank of Australia in January. The data came out tonight. The figure was the highest since March 2011. Today at 23-30 GMT (0) we expect the consumer confidence index . The Forecast is neutral.
The yesterday's data on real estate market in Canada were negative. This caused the weakening of the Canadian Dollar (growth on the USDCAD chart). The Bank of Canada has stated it will consider lowering interest rates only when inflation exceeds 2%. Now this is not observed yet. The inflation has been already below this level for 20 months, and it was 1.2 % in December. The discount rate in Canada is 1 % and in has been unchanged since September 2010. The inflation data for January will be released on February 21. Most market participants believe that this time the Canadian Dollar will retain a neutral trend
Strengthening of the British Pound (growth GBPUSD chart) was limited despite the strong retail sales data. Investors fear that tomorrow's quarterly inflation report from the Bank of England can permanently postpone the increase in the discount rate. It is expected that the report will contain the inflation outlook, a new management plan for discount rates as well as the opinion that the UK economy is growing too rapid.
The price of Gold (XAUUSD) yesterday continued to grow. Following the announcement of a massive increase in demand in China last year, the trading volume of Gold on the Shanghai Stock Exchange peaked in the first nine months amounted to 25.7 tonnes on Monday. Buyers hope that today's Janet Yellen's speech will contain a hint of a pause in the reduction of the QE3. This has a negative impact on U.S. stocks and the Dollar, but will increase the price of gold.