Yesterday the British Pound (GBPUSD) significantly strengthened (growth on the chart) after the publication of the quarterly review by the Bank of England. It increased GDP growth forecast of its country for the current year from 2.8% to 3.4%. According to the Bank of England, at the beginning of next year the unemployment rate is expected to decline by 6.5% from the current 7%. This will be followed by the increase of discount rate from its current level at 0.5%. Investors now expect that by the end of 2015 it may rise to 1% and 2% for three years. Recall that in December, the inflation rate in the UK fell to the key level of 2% for the first time in four years. Low inflation and unemployment rates are the main factors for rate cuts by the Bank of England. Another important event for the Pound is expected only on February 18. Inflation for January will be released. Note that according to the plans of the Bank of England, the consumer price index should be no higher than 1.7% in March this year.

Tonight weak labor market data came out unexpectedly in Australia. This contributed to the weakening of the Australian Dollar. On the chart it looks like the fall of the AUDUSD rate. Unemployment rate rose to its highest level since July 2003 and was 6%, worse than was expected. Investors believe that if this figure will keep on rising, the Reserve Bank of Australia may lower the discount rate from the current level at 2.5%. Note that until the end of February important macroeconomic data for Australia is no longer expected.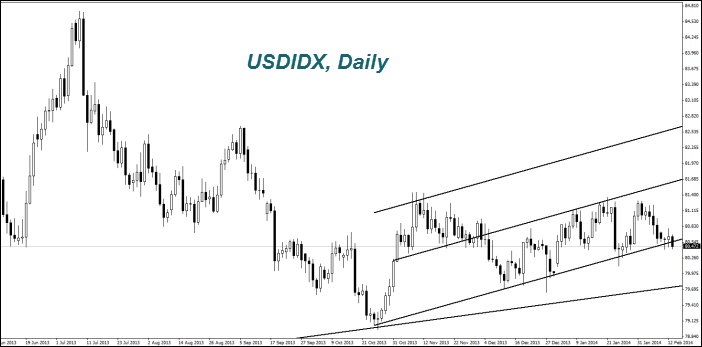 Today in the USA at 13-30 and 15-00 GMT (0) important macroeconomic data will come out. More about this can be found on the page "Economic Calendar". In our opinion, the preliminary forecasts are negative for the U.S. Dollar. Accordingly, now the U.S. Dollar index (USDIDX) is decreasing. At 15-30 GMT, (0) the speech of the Fed chairman, Janet Yellen, will take place.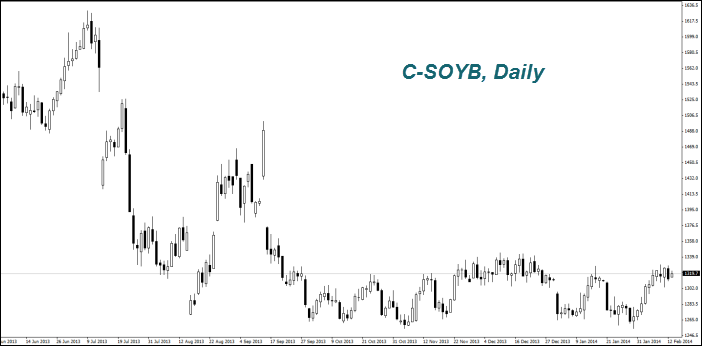 Unmodified soybeans (SOYB) are trading in a narrow range for already five months. Meanwhile, China has begun testing the 180 tons of U.S. soybeans for illegal genetically modified strains MIR 162. If the results do not reveal anything, there is a good chance to increase prices. Recall that in January, China refused to purchase soybeans with the volume of 600 thousand tons from the USA.