17 February, 2014
On Friday, the U.S. dollar index (USDIDX) decreased due to the weak economic data in the U.S. and strong - in the European Union and China. Falling of the U.S. industrial production in January appeared highest in the last 4.5 years. This week, the significant macroeconomic information from the United States starts coming out only since Wednesday
On Friday, the euro area GDP for the fourth quarter increased by 0.5 % year on year. This is more than it was expected. Now market participants expect a higher growth for this year. This modestly reduced the likelihood of further rate cuts at the next ECB meeting on March 6. Note that the EU's GDP for 2013 will be released in the second reading on March 5th. As it was expected, at the same time the ECB will announce its economic growth forecast for the current year. Recall that in the opinion of the European Commission, the Eurozone GDP will grow by 1.1% in 2014. This week's important economic data from the EU will be released on Tuesday and Thursday.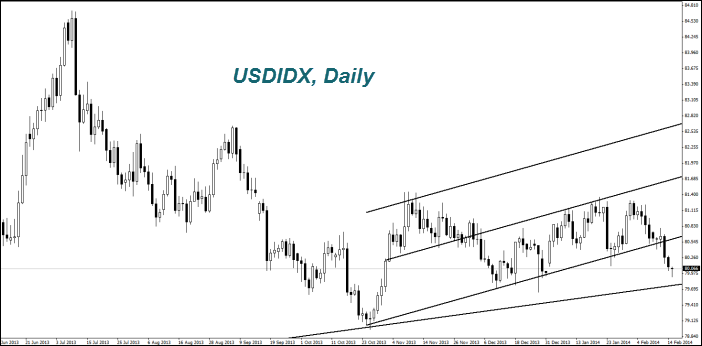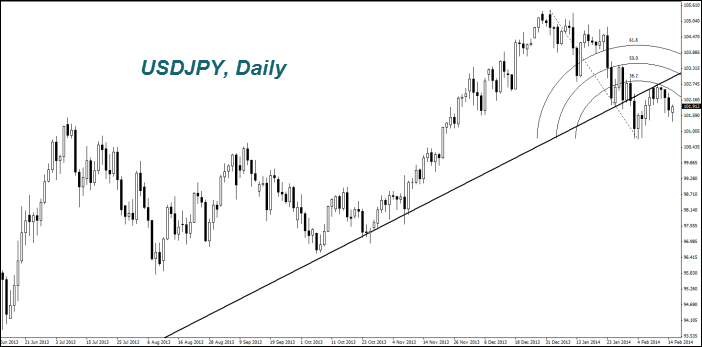 Last night, there was the Japanese GDP for the fourth quarter declared. It was worse than the preliminary forecasts. Because of this, strengthening of the Yen (falling on the USDJPY chart) was not that significant. Market participants fear increase of the monetary issue. The Bank of Japan is doing as same thing as the Fed does - prints money and spends them for monthly Japanese government bonds. However, as we have already mentioned, further easing of the monetary policy in Japan is unlikely until early April, when the sales tax is increased from 5% to 8%. The authorities will firstly need to assess the impact of this increase on the economy. It will happen for the first time since 1997. This week will be eventful for the Yen. Tomorrow at 3-30 - 5-00 GMT (0) we expect the Bank of Japan important press conference to be held. On Wednesday and Thursday there are macroeconomic data coming out.
The Australian Dollar (AUDUSD) rose (growth on the chart) due to the positive data from its main trade partner - China. The volume of new loans reached its highest level since 2010 and amounted to 1.32 trillion Yuan. Most of the Forex market participants believe that the Reserve Bank of Australia will not reduce the interest rate (2.5%) until the end of the year. An additional positive factor for the Australian dollar was the CFTC report. The net short position on Aussie decreased by 14.6% last week. Tomorrow at 00-30 GMT (0) we expect the RBA press conference to be held. There are no more particularly meaningful data from this country expected this week.

The price of Gold keeps rising on weak economic data from the United States, the increase in the (XAUUSD) quotations is also observed. According to the CFTC weekly report, the net long position on Gold futures in the Chicago Stock Exchange increased by 17%. The number of buyers increased by 8.8%. Due to rising in the Gold price, there was a strong growth of Silver (XAGUSD) quotations occurred. They rise for 12 consecutive days, for the first time since 1968. The rest of the precious metals are also in high demand.
---
Source link
---