Current trend
During yesterday's trades investors were focused on the monetary policy decision of ECB and for good reason. ECB has left interest rate unchanged, refinancing rate was also kept at the previous level of 0.25%, while deposit rate amounted 0.00%. In the morning British currency was sluggish and in the evening fell to the level of 1.6690, reaching the level of 1.6775, which has not been broken down. At the closing session the pair traded at the level of 1.6740. Today, attention will be drawn to the US data on labour market, including NFPR. It is expected that this index will grow to 150 thousand. However, if the forecast is not justified, the pair may consolidate above the level 1.6770, and in future reach the level of 1.6800.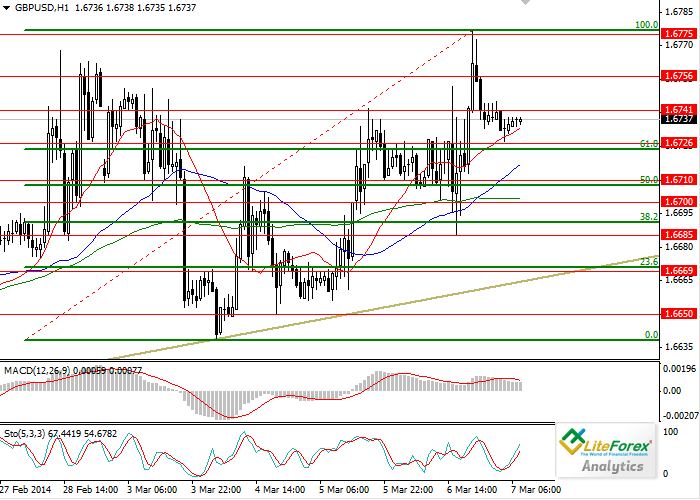 Levels of support and resistance
The nearest resistance levels: 1.6470, 16755 and 1.6775, the latter one is the key level for the "bulls". Support levels: 1.6725, 1.6710 and 1.6700.
Trading tips
Even if US data would below expectations (leading to the rise in the pair) GBP/USD is unlikely to stay at this level for a long time. It is more likely that the pair will experience correction. Therefore, it is advisable to place limit orders to sell at the level of 1.6775. Short positions can be opened below the level of 1.6700.
Ilya Lashenko
Analyst of LiteForex Group of Companies
- See more at: http://www.liteforex.com/trading/detail/analytics/24014/#sthash.OQ11s4YZ.dpuf
Friday, January 20, 2017 will mark the historic inauguration of what promises to be a highly unconventional US presidential administration...
Oil has spiked higher on Al Falih comments in Davos (Saudi oil minister). He said during a panel discussion at WEF in Davos that there will be inflation in the cost of doing business in the oil industry, following the squeeze that accompanied the decline in crude prices...
A speech from Theresa May is one of the key events for financial markets this week and certainly the most relevant for the British pound. Primie Minister is about to deliver a speech on UK's stance and conditions ahead of the triggering article 50 and beginning the Brexit negotiations...