March 12, 2014
---
Current trend
The pair started this week with the decline. On Monday morning the price fell by 100 points from the level of 1.6735 to 1.6635. Until Tuesday afternoon the pair traded in the narrow range. The data on British industrial output for January was below the previous level and also below expectations. Volume of industrial output has increased by 0.1% while experts expected the rise of 0.2%.
In the result the pair went to 1.6595 and finished trading at the level of 1.6630. Although the week started for the pair GBP/USD not in the best way; the pair continues to maintain above the level of 1.6600. As long as this level is not broken down, the price may go back up to the level of 1.6700 or higher, although many analysts believe that the pair is overbought. Attention today shall be paid to the data on British trade balance for January, which can trigger fluctuation in the pair. The rise in trade balance can push the price up to the level of 1.6540.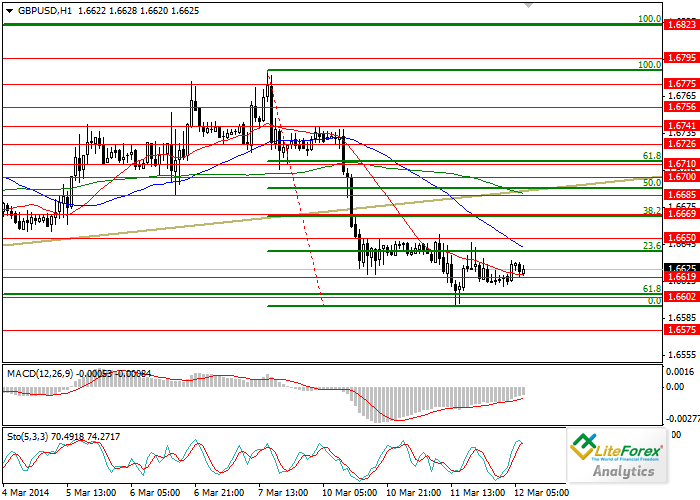 Levels of support and resistance
The nearest support levels: 1.6620, 1.6600 and 1.6575. Note that the key level of the "bears" is 1.6600, which gives strong support to the pair. Resistance levels are 1.6650, 1.6670, 1.6680 and 1.6700.
Trading tips
It is likely that for some time the pair will trade in the narrow range. Long positions can be opened above the level of 1.6670. Sell orders can be placed below the level of 1.6580.
Ilya Lashenko
Analyst of LiteForex Group of Companies
Publication source
---
LiteForex information
LiteForex reviews
February 17, 2017
The gold price has racked up its 2nd straight day of gains today on the back of US dollar weakness and doubts over an interest rate hike next month from the US Federal Reserve...
---
February 16, 2017
The Euro is slowly going down and this is not brought on by the Eurozone situation. Instead, this is fueled by the U.S. Dollar. Yesterday, Janet Yellen gave a speech in the Senate Banking Committee emphasising the fact that it Is not quite right to use the wait-and-see stance regarding the interest rate hike...
---
February 14, 2017
The Euro has come under pressure late in the European session today, after analysts warned of the huge costs that France would face should they decide to ditch the European currency...
---