March 17, 2014
---
Current trend
Last week the pair had reached new local highs since 2011 at the level of 1.3966. However the pair failed to maintain this level and by the end of the trading session fell to the level of 1.3910. EUR/USD was able to reach such high level despite weak and ambiguous economic data of Eurozone.
This week the EUR/USD started at the closing Friday's level. This week is not going to be very eventful in terms of important economic statistics; however attention shall be paid to sentiment index in business sector of Germany as per ZEW, which will be released on Tuesday. It is expected that this index will decline against the previous level, which will put pressure on Euro. Today, US volume of industrial output for February will become known, which can also affect the pair EUR/USD.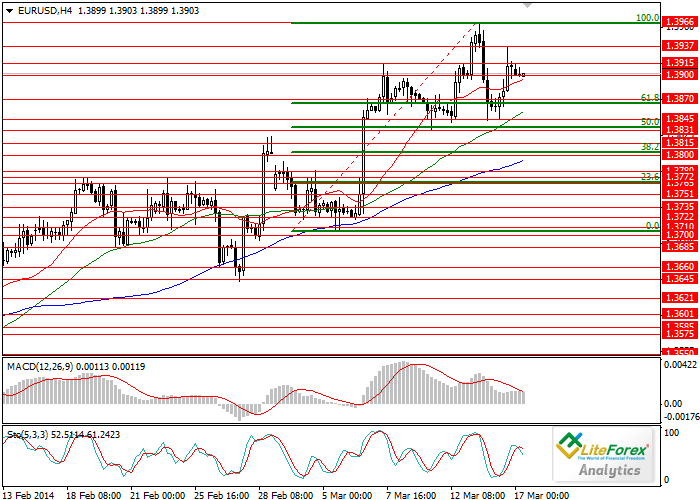 Levels of support and resistance
Currently the pair is trading at the level of 1.3900, which is a very important level.
Resistance levels: 1.3915, 1.3940 and 13965.
Support levels: 1.3870, 1.3845, 1.3830 and 1.3800.
Trading tips
It is likely that the pair will continue to decline as strengthening in Euro is not advantageous for EU. Short positions can be placed below the level of 1.3850. Limit sell orders are recommended at the level of 1.3940.
Ilya Lashenko
Analyst of LiteForex Group of Companies
Publication source
---
LiteForex information
LiteForex reviews
September 23, 2016
The price of gold extended its rebound modestly on Thursday after the US Federal Reserve provided some key signals on Wednesday that, despite a considerable probability of one Fed rate hike by the end of this year...
---
September 22, 2016
The reaction seen in currency markets yesterday to respective central bank policy decisions was instructive of the change in dynamics that we're seeing. The BoJ enacted a number of changes to its policy regime...
---
September 21, 2016
The Bank of Japan delivered a whole heap of nothing at its policy meeting today, although some adjustments were made to its policy framework. If you take the time to read through these measures, then the impression is of a central bank that has largely lost the monetary plot...
---