March 26, 2014
---
Current trend
Since the beginning of this week the currency pair NZD/USD has traded in the uptrend, slowly regaining from losses, caused by the US Fed decision to reduce bond purchase program. Negative US statistics puts pressure on the American dollar. Business activity index in the US manufacturing sector fell below the forecast, estimated by Markit and Richmond fell, reaching 55.5 and 7 points respectively.
Poor results were also demonstrated by the housing market. Sales of new houses fell below the level of January, amounting to 440 thousand.
Volume of orders for durable products in the USA for February will become known today. According to forecast this index can be the best since November last year, reaching the level of 1.1%, which will provide support to the American currency.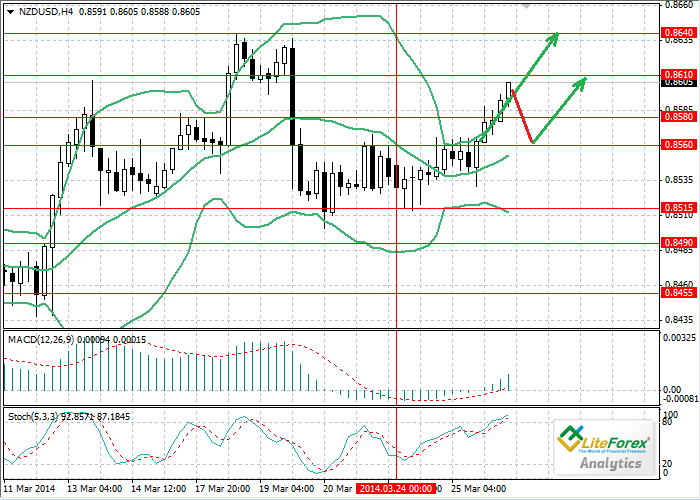 Support and resistance
In the near future the price will continue to go up to the levels of 0.8610 and 0.8640. However, correction, (which is not excluded, due to fundamental data), can reach the levels of 0.8580 and 0.8560 (middle moving average of Bollinger bands indicator).
Technical indicators confirm a chance of ascending movement. Bollinger bands demonstrate divergence, confirming uptrend; however the price chart has broken down the upper moving average, which suggests correction. MACD histogram has moved to the positive zone, forming a buy signal. Stochastic lines have entered overbought zone, demonstrating a similar signal.
Trading tips
In the current situation it makes sense to place long positions from the current price level with take profit at 0.8640. Short positions can be opened if the price falls to the level of 0.8580.
Dmitry Zolotov
Analyst of LiteForex Group of Companies
Publication source
---
LiteForex information
LiteForex reviews
December 8, 2016
The main challenge for markets today will be steering through the messages that emerge from the ECB meeting and press conference. Whereas the Fed meeting next week is seen as a near certainty in terms of its outcome, this is not the same for the ECB...
---
December 7, 2016
The oil price fell for the first time in 4 days today as skepticism creeped in over some OPEC member's commitment to keep to their end of the deal and cut production...
---
December 6, 2016
The prices extend gains after OPEC's output cut deal brings short-term optimism. Forward market shows that the US oil producers are rushing to lock the profit, selling oil contracts for above $50 a barrel at the start of 2018...
---