March 26, 2014
---
Current trend
Since the beginning of this week the currency pair NZD/USD has traded in the uptrend, slowly regaining from losses, caused by the US Fed decision to reduce bond purchase program. Negative US statistics puts pressure on the American dollar. Business activity index in the US manufacturing sector fell below the forecast, estimated by Markit and Richmond fell, reaching 55.5 and 7 points respectively.
Poor results were also demonstrated by the housing market. Sales of new houses fell below the level of January, amounting to 440 thousand.
Volume of orders for durable products in the USA for February will become known today. According to forecast this index can be the best since November last year, reaching the level of 1.1%, which will provide support to the American currency.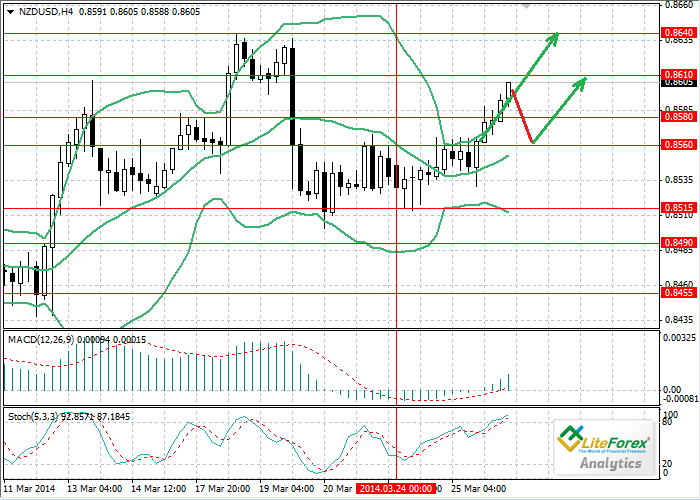 Support and resistance
In the near future the price will continue to go up to the levels of 0.8610 and 0.8640. However, correction, (which is not excluded, due to fundamental data), can reach the levels of 0.8580 and 0.8560 (middle moving average of Bollinger bands indicator).
Technical indicators confirm a chance of ascending movement. Bollinger bands demonstrate divergence, confirming uptrend; however the price chart has broken down the upper moving average, which suggests correction. MACD histogram has moved to the positive zone, forming a buy signal. Stochastic lines have entered overbought zone, demonstrating a similar signal.
Trading tips
In the current situation it makes sense to place long positions from the current price level with take profit at 0.8640. Short positions can be opened if the price falls to the level of 0.8580.
Dmitry Zolotov
Analyst of LiteForex Group of Companies
Publication source
---
LiteForex information
LiteForex reviews
January 18, 2017
Friday, January 20, 2017 will mark the historic inauguration of what promises to be a highly unconventional US presidential administration...
---
January 17, 2017
Oil has spiked higher on Al Falih comments in Davos (Saudi oil minister). He said during a panel discussion at WEF in Davos that there will be inflation in the cost of doing business in the oil industry, following the squeeze that accompanied the decline in crude prices...
---
January 16, 2017
A speech from Theresa May is one of the key events for financial markets this week and certainly the most relevant for the British pound. Primie Minister is about to deliver a speech on UK's stance and conditions ahead of the triggering article 50 and beginning the Brexit negotiations...
---