On Wednesday April, 2 the US dollar strengthened its positions vs. most major currencies after release of ADP Employment Change. The US Factory Orders growth also exceeded the expectations. The euro was traded downwards before the ECB Meeting on Thursday. The New Zealand dollar dropped amid decrease of Commodity Prices.
According to Automatic Data Processing (ADP), Employment Change increased in March by 191,000, which almost coincided with the forecast of 195,000. Previous month data was revised downwards – from 139,000 to 178,000. Though the report appeared to be slightly weaker than it was forecasted, it increased confidence that the largest world economy strengthens after weak data of the beginning of the year. On Friday the US Department of Labor will release Non-Farm Payrolls. It is expected that Employment Change increased in March by 195,000, and Unemployment Rate decreased to 6.6% from 6.7%.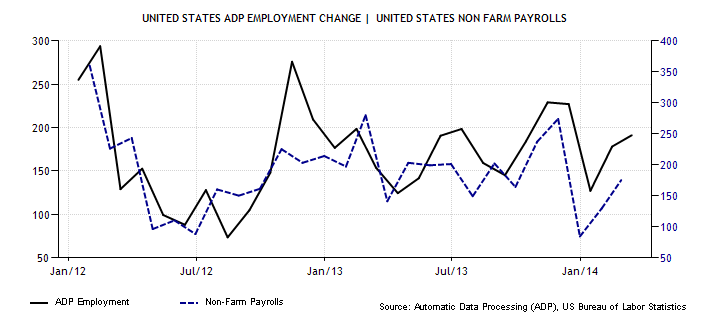 The US Factory Orders appeared to be better than it was expected. Factory Orders increased in February by 1.6% in reference to the previous month, against the forecast of +1.2%. The orders increased in February after two-month decrease, and demonstrated the strongest monthly growth for over 5 months.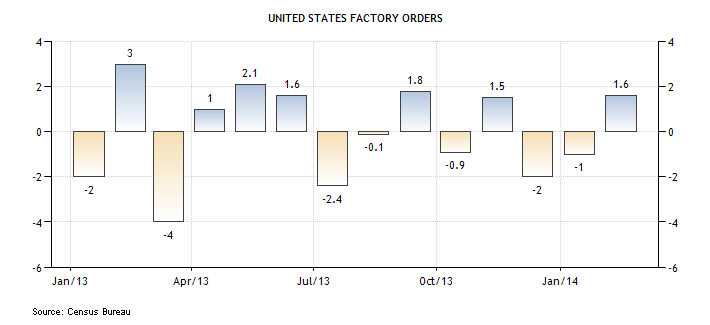 The euro was downwardly traded before the ECB Meeting on Thursday. Producer Price Index sharply dropped, and the Euro-zone GDP increased less than it was predicted. The Euro-zone Producer Price Index dropped in February by 1.7% y/y after decrease by 1.4% in January, whereas minor decrease was expected – by 1.6% y/y. Final Euro-zone GDP Growth Rate for the 4th quarter was revised to +0.2% q/q, whereas earlier growth by 0.3% was announced.
The pound sterling had almost no reaction to the slight decrease of Construction Index in the UK. Construction PMI sharply decreased in March to 62.5 p. from 62.6 p. in February, but still it stayed near the high of the last 6.5 years, which was fixed in January. The growth to 63 p. was expected. House Price Index growth in the UK accelerated, and this fact is one more proof for of Housing Market recovery. Nationwide House Price Index increased in March by 9.5% y/y after growth by 9.4% in February, having demonstrated the highest annual growth rate since May, 2010.
The New Zealand dollar demonstrated most considerable fall on Wednesday amid profit taking after considerable growth in March. Possible accelerator of decrease might be decrease of Milk Prices at Fonterra auction sale, when the prices dropped by 8.9%, having reached the lowest rate for more than a year, which was due to high volume of dried whole milk in New Zealand, and decrease of Chinese demand. ANZ Commodity Prices, which is considered to be leading indicator of Export Price change, also dropped in March by 0.1% m/m after three-month strengthening.
On the contrary the Australian dollar was traded steadily, having almost no changes according to the results of the day – amid Chinese new measures of economy stimulation, which were performed on Wednesday. Chinese authorities are going to steer $24B into country's economy growth support. New measures include rail infrastructure expenses and tax remissions.