June 12, 2014
---
Today, market participants will wait for the data on volume of industrial output in Eurozone for April, as well as US statistics on retail sales.
Volume of industrial output is one of the main indicators of the economic situation. Since September last year this indicator has been growing slowly, but steadily; however in March the index fell by 0.1%. It is expected that in April this index will grow both on monthly and annual basis (by 0.4% and 0.9% respectively). The growth of the volume of industrial output can provide support to European currency; however, it is unlikely that Euro will strengthen significantly against its main counterparts, especially after the decision to ease monetary policy, adopted by ECB.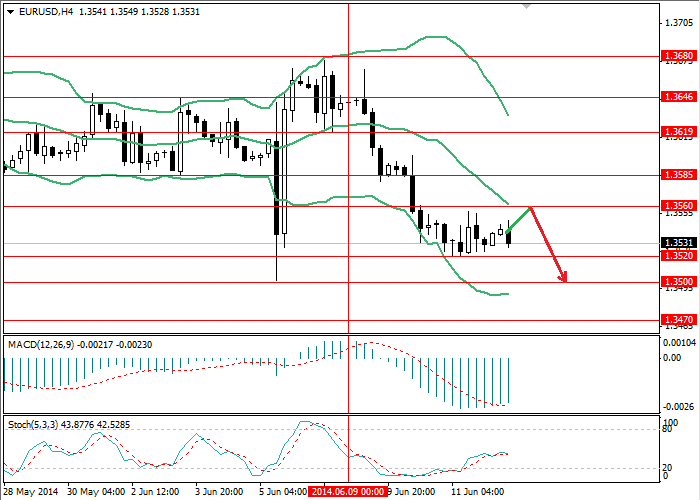 Another important event is the release of the US retail sales statistics for May. This index has been growing for the last three months. The increase in consumer spending and demand has a positive impact on the industrial production and the state of the American economy as a whole. According to the forecast total volume of the American retail sales will grow by 0.6% in May. The same index excluding sales of the cars will increase by 0.4%.
Based on the fundamental data it is expected that today the currency pair EUR/USD will rise up to the level of 1.3560. After that the pair will start to go down to the levels of 1.3520, 1.3500 and 1.3470.
Direction Up
Recommendation Buy
Entry Point 1.3535
Take Profit 1.3560
Stop Loss
Key Levels 1.3560, 1.3520, 1.3500, 1.3470.
Recommendation Sell
Entry Point 1.3560
Take Profit 1.3470
Stop Loss
Key Levels 1.3560, 1.3520, 1.3500, 1.3470.
Publication source
---
LiteForex information
LiteForex reviews
September 23, 2016
The price of gold extended its rebound modestly on Thursday after the US Federal Reserve provided some key signals on Wednesday that, despite a considerable probability of one Fed rate hike by the end of this year...
---
September 22, 2016
The reaction seen in currency markets yesterday to respective central bank policy decisions was instructive of the change in dynamics that we're seeing. The BoJ enacted a number of changes to its policy regime...
---
September 21, 2016
The Bank of Japan delivered a whole heap of nothing at its policy meeting today, although some adjustments were made to its policy framework. If you take the time to read through these measures, then the impression is of a central bank that has largely lost the monetary plot...
---