June 12, 2014
---
Today, market participants will wait for the data on volume of industrial output in Eurozone for April, as well as US statistics on retail sales.
Volume of industrial output is one of the main indicators of the economic situation. Since September last year this indicator has been growing slowly, but steadily; however in March the index fell by 0.1%. It is expected that in April this index will grow both on monthly and annual basis (by 0.4% and 0.9% respectively). The growth of the volume of industrial output can provide support to European currency; however, it is unlikely that Euro will strengthen significantly against its main counterparts, especially after the decision to ease monetary policy, adopted by ECB.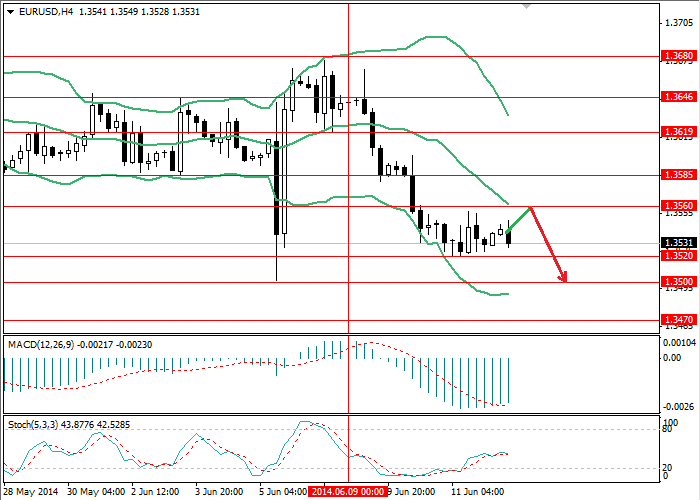 Another important event is the release of the US retail sales statistics for May. This index has been growing for the last three months. The increase in consumer spending and demand has a positive impact on the industrial production and the state of the American economy as a whole. According to the forecast total volume of the American retail sales will grow by 0.6% in May. The same index excluding sales of the cars will increase by 0.4%.
Based on the fundamental data it is expected that today the currency pair EUR/USD will rise up to the level of 1.3560. After that the pair will start to go down to the levels of 1.3520, 1.3500 and 1.3470.
Direction Up
Recommendation Buy
Entry Point 1.3535
Take Profit 1.3560
Stop Loss
Key Levels 1.3560, 1.3520, 1.3500, 1.3470.
Recommendation Sell
Entry Point 1.3560
Take Profit 1.3470
Stop Loss
Key Levels 1.3560, 1.3520, 1.3500, 1.3470.
Publication source
---
LiteForex information
LiteForex reviews
December 2, 2016
The Oil price continued to push higher today reaching its highest level in over a year with some predicting that the OPEC deal reached yesterday was a game changer and further gains are expected...
---
November 29, 2016
The Euro was under further pressure today against the US dollar on the back of political instability in Italy and, bringing it closer to parity with its American counterpart...
---
November 28, 2016
The US is back to the markets in full swing today as investors return from the long weekend and while this may have a major impact on the markets (given the fact that US bonds and US dollar had such a massive influence on global markets recently) other factors dominate in the calendar with the US being present...
---