July 24, 2014
---
Important macro-economic statistics of the UK and USA will be released today. This will be the data on retail sales for June in the UK and new houses sales in the U.S.
Retail sales index indicates the level of consumer demand and costs in the retail sale sector; therefore, it is one of the main indices, reflecting economic state of the country. It is expected that indicators of the total volume of retail sales in the UK, as well as retail sales, excluding fuel, will grow by 0.3% each. This is not a significant growth; however, it can provide a temporary support to the British currency.
U.S. data on sales of new houses in June will become known today. Real estate market, which is an important part of the American economy, is unstable lately. It became known that the number of new construction has decreased significantly in June, as well as approvals to construction. It is expected that sales of new houses in June will amount to 479 thousand, which will be less than a month ago. Currently, the Americans prefer to buy houses on the secondary market, not investing to the new construction, which suggests that they feel insecure about the future. If the negative forecast proves to be correct, the USD will drop against its major counterparts.
Taking into consideration all the facts we can assume that the pair GBP/USD will undergo upward correction to 1.7060 or even up to 1.7075.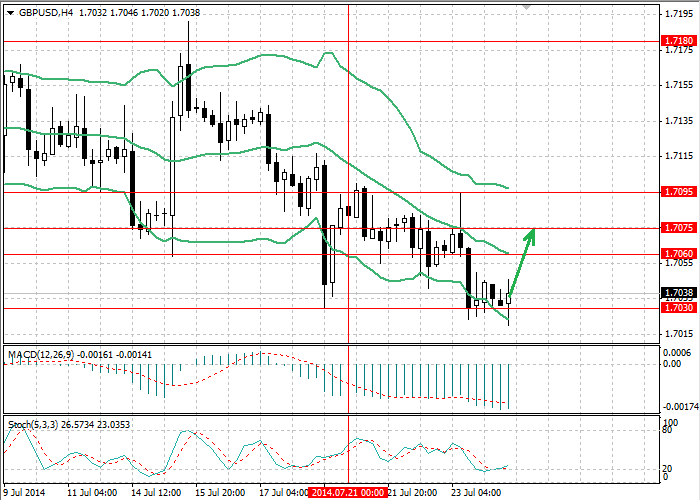 Publication source
---
LiteForex information
LiteForex reviews
October 26, 2016
What we saw in sterling yesterday was instructive of the dilemma that may face other central bankers before long. Carney played down expectations of a further easing in policy before the end of the year, as was strongly suggested in August when they eased policy in the wake of the Brexit referendum...
---
October 24, 2016
Monday, October 24, 2016 - JPY Small Business Confidence (OCT), EUR Markit/BME Germany Manufacturing PMI (OCT P), USD Markit US Manufacturing PMI (OCT P)...
---
October 21, 2016
With the dust having settled after Wednesday final US presidential debate of the 2016 campaign between Donald Trump and Hillary Clinton, the results have become rather apparent...
---