September 25, 2014
---
Today, market participant are waiting for the American statistics, including the number of orders for durable goods in August.
Durable goods are those, with the expiry dates of not less than three years. Mainly, these are vehicles, construction materials and home appliances. As a rule, durable goods are expensive and require pre-ordering. Therefore, the increase in the orders for durable orders increases capacity of the industrial enterprises, which in its turn, helps to improve the state of the national economy.
According to the forecast, volume of orders for durable goods can fall by 17.7% in August, which is not surprising. After the significant rise in July (by 22.6%), the decline is inevitable. However, if the forecast proves to be correct, the American currency will be put under pressure, which may trigger upward correction in the market.
Attention today shall be focused on the speech of the heads of the leading world banks Mr. Mario Draghi and Mr. Mark Carney. No one is expecting any sensations; but these leaders can shed the light on the future monetary policy of the European and British regulators.
Amid the current situation, it is likely that the pair EUR/USD will undergo upward correction to the levels 1.2765-1.2800. However, general tendency of the decline in price will not change.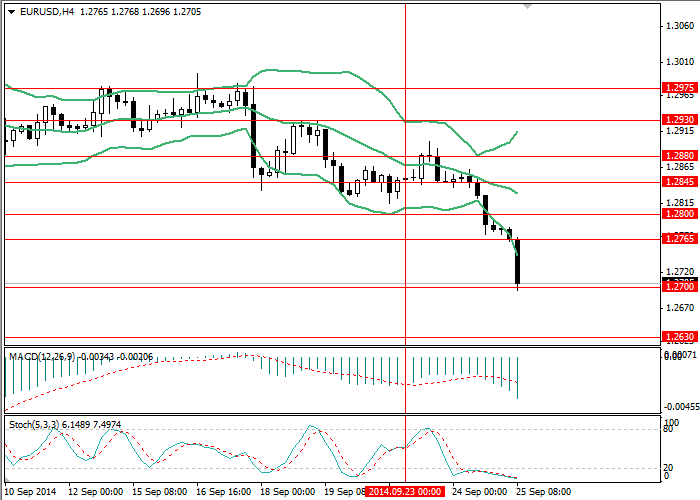 Publication source
---
LiteForex information
LiteForex reviews
January 16, 2017
A speech from Theresa May is one of the key events for financial markets this week and certainly the most relevant for the British pound. Primie Minister is about to deliver a speech on UK's stance and conditions ahead of the triggering article 50 and beginning the Brexit negotiations...
---
January 13, 2017
USD was taking damage from the Wednesday Donald Trump specch until yesterday evening. Lack of details on economic and fiscal agenda at the first press conference of the president-elect caused a correction on equities boosted since the US elections...
---
January 12, 2017
As OPEC and its biggest partner Russia have agreed to curtail Oil output prices, this offers the strongest catalyst of recovery since the start of the fight for market share back in 2014. Despite the initial market "hurrah" which helped the prices to get over the $50 mark...
---