September 25, 2014
---
Today, market participant are waiting for the American statistics, including the number of orders for durable goods in August.
Durable goods are those, with the expiry dates of not less than three years. Mainly, these are vehicles, construction materials and home appliances. As a rule, durable goods are expensive and require pre-ordering. Therefore, the increase in the orders for durable orders increases capacity of the industrial enterprises, which in its turn, helps to improve the state of the national economy.
According to the forecast, volume of orders for durable goods can fall by 17.7% in August, which is not surprising. After the significant rise in July (by 22.6%), the decline is inevitable. However, if the forecast proves to be correct, the American currency will be put under pressure, which may trigger upward correction in the market.
Attention today shall be focused on the speech of the heads of the leading world banks Mr. Mario Draghi and Mr. Mark Carney. No one is expecting any sensations; but these leaders can shed the light on the future monetary policy of the European and British regulators.
Amid the current situation, it is likely that the pair EUR/USD will undergo upward correction to the levels 1.2765-1.2800. However, general tendency of the decline in price will not change.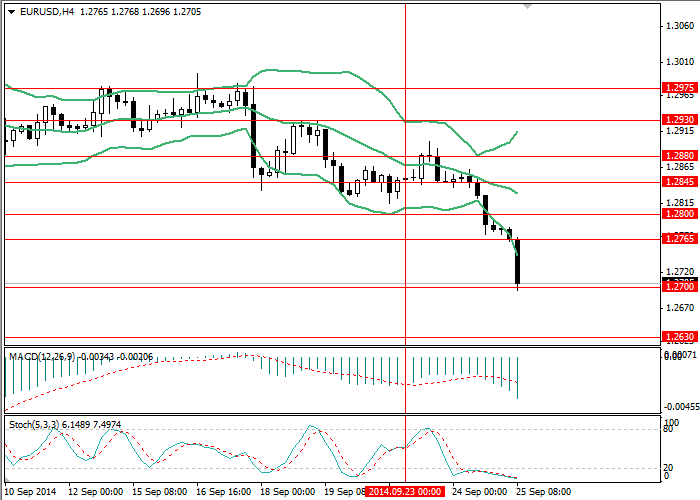 Publication source
---
LiteForex information
LiteForex reviews
September 23, 2016
The price of gold extended its rebound modestly on Thursday after the US Federal Reserve provided some key signals on Wednesday that, despite a considerable probability of one Fed rate hike by the end of this year...
---
September 22, 2016
The reaction seen in currency markets yesterday to respective central bank policy decisions was instructive of the change in dynamics that we're seeing. The BoJ enacted a number of changes to its policy regime...
---
September 21, 2016
The Bank of Japan delivered a whole heap of nothing at its policy meeting today, although some adjustments were made to its policy framework. If you take the time to read through these measures, then the impression is of a central bank that has largely lost the monetary plot...
---