January 23, 2015
---
Much of the fervor around North America today had less to do with what was actually happening on this continent, and more with what was happening in Europe. Of course, by now everyone is aware that the European Central Bank introduced €60 billion per month of Quantitative Easing that was more than the €50 billion per month they leaked yesterday (if you're not familiar then I encourage you to read this). In response to them bettering their own false expectation, they pulled off a brilliant coup 'd'état and effectively massaged the euro lower across virtually all asset classes without providing too much more than pre-leak expectations. Either Mario Draghi is the next John Nash, or they have someone else sitting at the ECB whom is a brilliant game theorist. Either way, the ECB delivered as promised which weakened the euro, and in the process, USD currency pairs are gaining even more ground.
One of said USD currency pairs that is gaining some healthy ground is the USD/JPY. After experiencing a low as the sun was rising this morning in New York around 117.25, it has surged over 100 pips as of this writing and threatens to challenge a declining trend line that has been capping any advances in this currency for all of 2015 so far. While this trend line created resistance level near 118.50 may be foreboding, there is another reason to believe that resistance is looming there as well in the form of a Bearish Gartley pattern. If these two forces can combine their powers of resistance, the USD/JPY may have a difficult time rallying for much longer.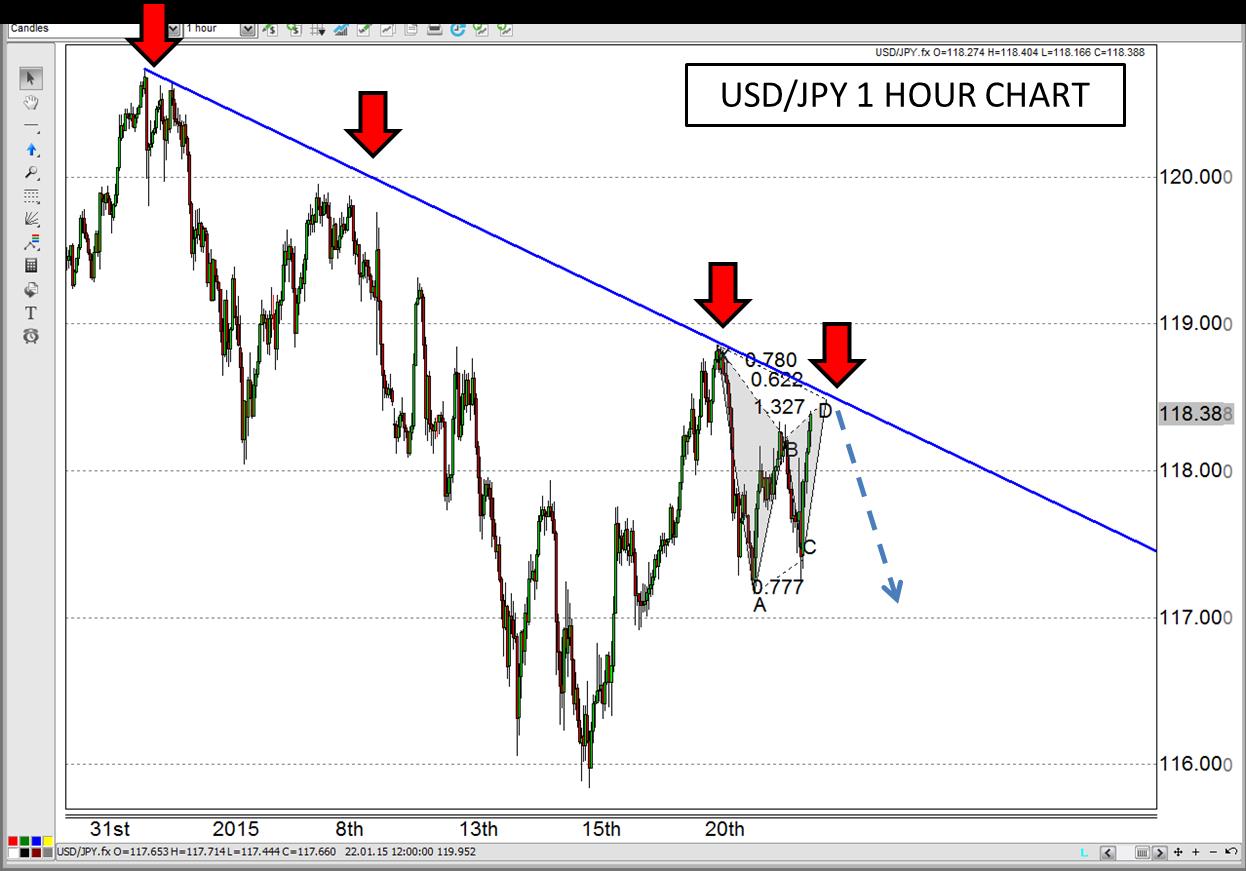 Publication source
---
FOREX.com information
FOREX.com reviews
September 23, 2016
The price of gold extended its rebound modestly on Thursday after the US Federal Reserve provided some key signals on Wednesday that, despite a considerable probability of one Fed rate hike by the end of this year...
---
September 22, 2016
The reaction seen in currency markets yesterday to respective central bank policy decisions was instructive of the change in dynamics that we're seeing. The BoJ enacted a number of changes to its policy regime...
---
September 21, 2016
The Bank of Japan delivered a whole heap of nothing at its policy meeting today, although some adjustments were made to its policy framework. If you take the time to read through these measures, then the impression is of a central bank that has largely lost the monetary plot...
---