January 26, 2015
---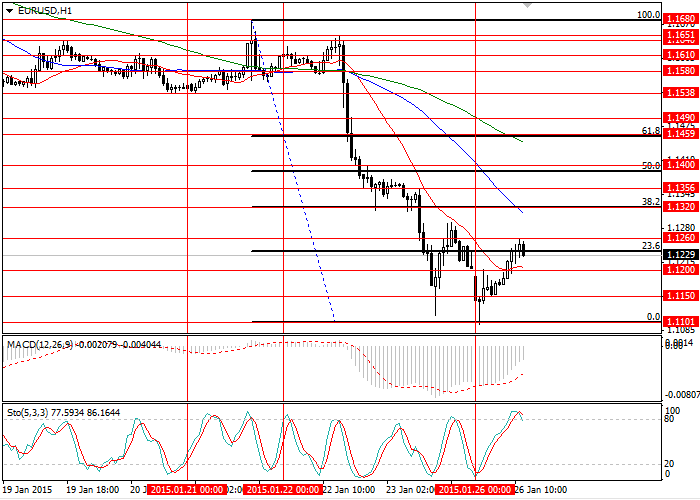 Current trend
The ECB announced a start of an assets buyout program on Thursday, which caused a stormy market reaction. Investors were prepared for that, but were not able to predict the program volume. The ECB plans to spend about 1.1 trillion euro on buying out assets, which equals about 60 billion per month. The EUR/USD had fallen to a level of 1.1360 by the end of Thursday, and the fall continued on Wednesday with the pair reaching a level of 1.1111. Today, the decline went on at the opening of the session and the EUR/USD refreshed its lows again. Afterwards, the pair corrected to a level of 1.1260 at which it is trading now. Finally, the euro is expected to fall below parity. Today's economic calendar seems empty, therefore the pair is most likely to be trading above 1.2000. Information on durable goods orders and consumer confidence index will be released tomorrow. Investors' particular attention will be riveted on the Fed's comments on monetary policy that will be published on Wednesday. Technically, the pair is under correction and we will be able soon to witness another attempt to overcome the nearest lows.
Support and resistance
The resistance levels are 1.1260, 1.1320, 1.1355, 1.1400. The support levels are 1.1230, 1.1200, 1.1150, 1.1100. Bears' nearest target is overcoming a level of 1.2000, the main target is consolidating below 1.1100.
Trading tips
Sell below the levels 1.1200 and 1.1100. Buy above 1.1260 but remember to place protective orders. Place sell limit orders at 1.1320.
Ilya Lashchenko,
Analyst at LiteForex Investments Limited
Publication source
---
LiteForex information
LiteForex reviews
December 7, 2016
The oil price fell for the first time in 4 days today as skepticism creeped in over some OPEC member's commitment to keep to their end of the deal and cut production...
---
December 6, 2016
The prices extend gains after OPEC's output cut deal brings short-term optimism. Forward market shows that the US oil producers are rushing to lock the profit, selling oil contracts for above $50 a barrel at the start of 2018...
---
December 5, 2016
The Italian referendum on constitutional reform saw voters reject the proposals in front of them, in a fairly decisive manner. As such, Italian PM Renzi will tender his resignation today and this became part of the issue...
---