January 27, 2015
---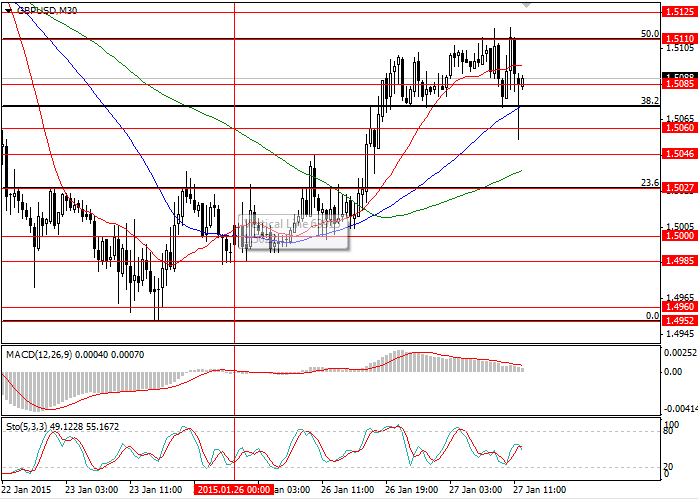 Current trend
The pair made several attempts of breaking above a level of 1.5050 yesterday, and managed to consolidate above a level of 1.5070 (38,2% Fibonacci).
The information on UK GDP published today turned out to be worse than predicted and made the pair drop to a level of 1.5050. However, the pair regained the previous levels almost immediately. Investors will be waiting for today's information on construction orders and US consumer confidence index, but the main attention will be focused tomorrow on the Fed's comments regarding the monetary policy. Investors are particularly interested in the comments on an upcoming interest rate rise that might happen in the middle of this year, according to most analysts.
Support and resistance
The closest resistance level and at the same time bulls' main target is 1.5110. Its breakout will open a way to new levels which are 1.5125, 1.5150, and 1.5175. The support levels are 1.5075, 1.5060, 1.5030, and 1.5000.
Trading tips
Long positions should be opened above a level of 1.5110 with targets at 1.5150 and 1.5200. Sell after the price has consolidated below 1.5050. Buy Limit orders should be placed at 1.5200 and 1.5150.
Ilya Lashchenko,
Analyst at LiteForex Investments Limited
Publication source
---
LiteForex information
LiteForex reviews
February 17, 2017
The gold price has racked up its 2nd straight day of gains today on the back of US dollar weakness and doubts over an interest rate hike next month from the US Federal Reserve...
---
February 16, 2017
The Euro is slowly going down and this is not brought on by the Eurozone situation. Instead, this is fueled by the U.S. Dollar. Yesterday, Janet Yellen gave a speech in the Senate Banking Committee emphasising the fact that it Is not quite right to use the wait-and-see stance regarding the interest rate hike...
---
February 14, 2017
The Euro has come under pressure late in the European session today, after analysts warned of the huge costs that France would face should they decide to ditch the European currency...
---