January 27, 2015
---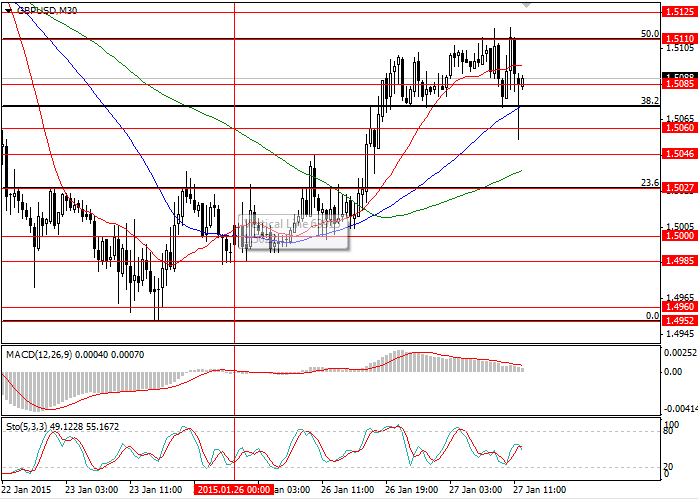 Current trend
The pair made several attempts of breaking above a level of 1.5050 yesterday, and managed to consolidate above a level of 1.5070 (38,2% Fibonacci).
The information on UK GDP published today turned out to be worse than predicted and made the pair drop to a level of 1.5050. However, the pair regained the previous levels almost immediately. Investors will be waiting for today's information on construction orders and US consumer confidence index, but the main attention will be focused tomorrow on the Fed's comments regarding the monetary policy. Investors are particularly interested in the comments on an upcoming interest rate rise that might happen in the middle of this year, according to most analysts.
Support and resistance
The closest resistance level and at the same time bulls' main target is 1.5110. Its breakout will open a way to new levels which are 1.5125, 1.5150, and 1.5175. The support levels are 1.5075, 1.5060, 1.5030, and 1.5000.
Trading tips
Long positions should be opened above a level of 1.5110 with targets at 1.5150 and 1.5200. Sell after the price has consolidated below 1.5050. Buy Limit orders should be placed at 1.5200 and 1.5150.
Ilya Lashchenko,
Analyst at LiteForex Investments Limited
Publication source
---
LiteForex information
LiteForex reviews
December 8, 2016
The main challenge for markets today will be steering through the messages that emerge from the ECB meeting and press conference. Whereas the Fed meeting next week is seen as a near certainty in terms of its outcome, this is not the same for the ECB...
---
December 7, 2016
The oil price fell for the first time in 4 days today as skepticism creeped in over some OPEC member's commitment to keep to their end of the deal and cut production...
---
December 6, 2016
The prices extend gains after OPEC's output cut deal brings short-term optimism. Forward market shows that the US oil producers are rushing to lock the profit, selling oil contracts for above $50 a barrel at the start of 2018...
---