January 27, 2015
---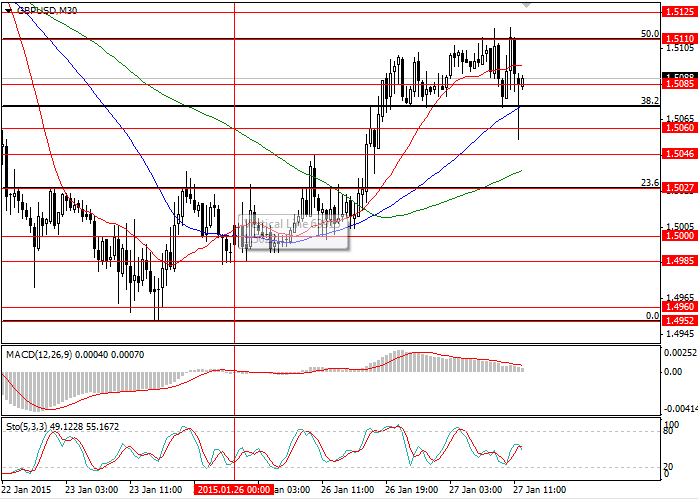 Current trend
The pair made several attempts of breaking above a level of 1.5050 yesterday, and managed to consolidate above a level of 1.5070 (38,2% Fibonacci).
The information on UK GDP published today turned out to be worse than predicted and made the pair drop to a level of 1.5050. However, the pair regained the previous levels almost immediately. Investors will be waiting for today's information on construction orders and US consumer confidence index, but the main attention will be focused tomorrow on the Fed's comments regarding the monetary policy. Investors are particularly interested in the comments on an upcoming interest rate rise that might happen in the middle of this year, according to most analysts.
Support and resistance
The closest resistance level and at the same time bulls' main target is 1.5110. Its breakout will open a way to new levels which are 1.5125, 1.5150, and 1.5175. The support levels are 1.5075, 1.5060, 1.5030, and 1.5000.
Trading tips
Long positions should be opened above a level of 1.5110 with targets at 1.5150 and 1.5200. Sell after the price has consolidated below 1.5050. Buy Limit orders should be placed at 1.5200 and 1.5150.
Ilya Lashchenko,
Analyst at LiteForex Investments Limited
Publication source
---
LiteForex information
LiteForex reviews
January 18, 2017
Friday, January 20, 2017 will mark the historic inauguration of what promises to be a highly unconventional US presidential administration...
---
January 17, 2017
Oil has spiked higher on Al Falih comments in Davos (Saudi oil minister). He said during a panel discussion at WEF in Davos that there will be inflation in the cost of doing business in the oil industry, following the squeeze that accompanied the decline in crude prices...
---
January 16, 2017
A speech from Theresa May is one of the key events for financial markets this week and certainly the most relevant for the British pound. Primie Minister is about to deliver a speech on UK's stance and conditions ahead of the triggering article 50 and beginning the Brexit negotiations...
---