January 28, 2015
---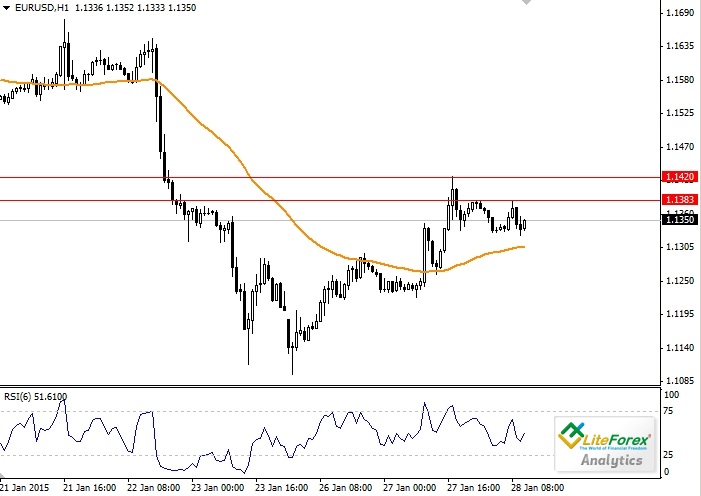 Current trend
On Tuesday, the dollar fell in price against the euro and a basket of major currencies after mixed economic news from the US was published. Thus, durable goods orders reduced 3.4% in December having disproved a 0.5% growth forecast. Core durable goods orders reduced 0.8% over the same period. In the meanwhile, the US consumer confidence index grew up to 102.9 points. This is the highest value since August 2007.
The euro may consolidate slightly today before the US Fed's meeting. It seems hard to forecast the decision the US monetary authorities will take owing to the world's unstable economy. Apparently, the interest rate will remain the same, which will lead to the euro continuing to grow against the dollar. In case the Fed decides to raise the key rate, the euro will weaken substantially, therefore short positions are recommended: the US regulator's decision will have a long-life effect.
Support and resistance
The closest resistance level is a price 1.1383 - today's trading maximums.
The support level is a price 1.1306 – a 55-period moving average.
Trading tips
Open long positions at current price with a target at 1.1383 and protective order at 1.1306.
Igor Shchukin
Analyst at LiteForex Investments Limited
Publication source
---
LiteForex information
LiteForex reviews
September 29, 2016
The risk is increasing on the market ahead OPEC meeting in Algiers and Yellen testimonial, which will happen before the House panel. FED-fueled rally on gold starts to fizzle out as the December futures keep on a losing streak for a second day, finally dipping by 0.12% to 1,328.75...
---
September 28, 2016
The market's initial response to the US presidential election debate overnight was a clear sigh of relief. The Mexican Peso, which had hit a record low against the dollar just the day before, surged higher, as too did the Canadian dollar...
---
September 27, 2016
It hasn't been a great start for global equities in this last week of September, with European indices dropping between 1.0 to 1.5 per cent during Monday's morning session, mirroring a similar performance in Chinese and Japanese markets overnight...
---