January 29, 2015
---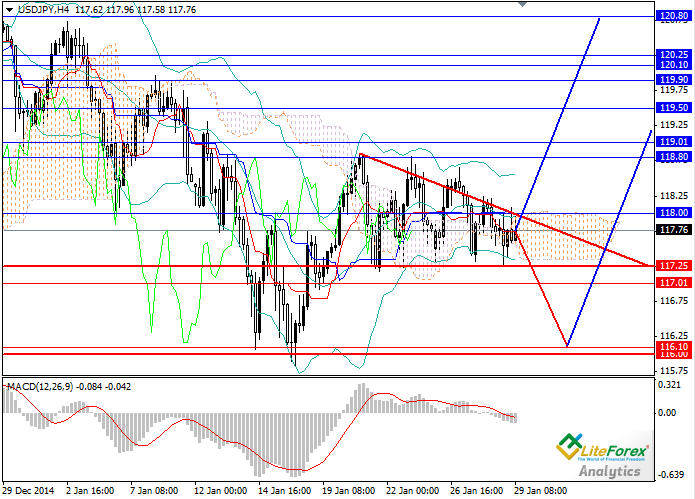 Current trend
The pair has been trading in a narrow sideways range of 118.80-117.25 for 2 weeks. The Japanese currency has made several unsuccessful attempts to recover, but has not managed to reach a level of 117.25. The 2-week absence of important macroeconomic data on Japan and the US decreased trading volumes, as investors focused on European leaps.
Yesterday, all major currencies consolidated against the dollar, but the USD/JPY showed almost no reaction to the weakening of the dollar. Tonight there was published information on retail sales in Japan. Contrary to favourable forecasts, the index lowered to a level of 0,2%.
The US labour market statistics are worth attention today. Tomorrow, consumer price and industrial production indexes will be released in Japan. If the information confirms favourable forecasts, the pair may drop to a key support level of 116.00.
Support and resistance
Apparently, yen consolidation will be temporary as the main tendency remains ascending. In the medium term, the pair will grow to the levels 120.25 and 121.00.
Support levels: 117.25, 117.00, 116.10, 116.00, 115.50.
Resistance levels: 118.00, 118.80, 119.00 119.50, 119.90, 120.25, 121.00.
Trading tips
Increase long positions and open pending long positions from the levels 117.25, 117.00, 116.00 with profit fixing at 120.25.
Dmitry Likhachev
Analyst at LiteForex Investment Limited
Publication source
---
LiteForex information
LiteForex reviews
September 30, 2016
Looking at the hourly chart, the pair still fighting to overtake 1.1235 barrier, which is considered as the near-term resistance for the single currency...
---
September 29, 2016
The risk is increasing on the market ahead OPEC meeting in Algiers and Yellen testimonial, which will happen before the House panel. FED-fueled rally on gold starts to fizzle out as the December futures keep on a losing streak for a second day, finally dipping by 0.12% to 1,328.75...
---
September 28, 2016
The market's initial response to the US presidential election debate overnight was a clear sigh of relief. The Mexican Peso, which had hit a record low against the dollar just the day before, surged higher, as too did the Canadian dollar...
---