January 29, 2015
---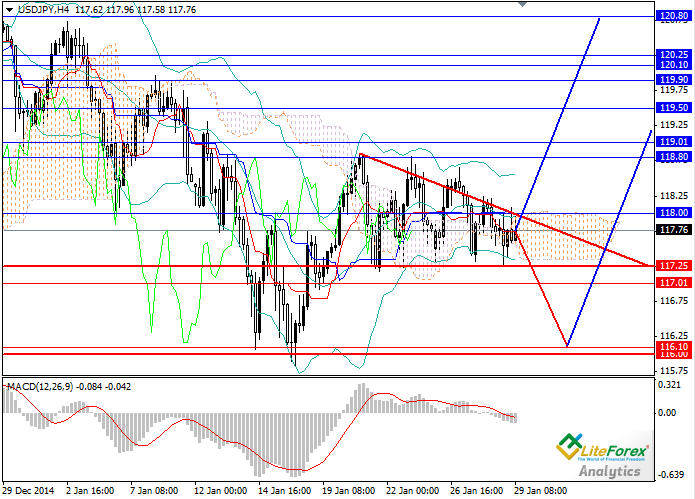 Current trend
The pair has been trading in a narrow sideways range of 118.80-117.25 for 2 weeks. The Japanese currency has made several unsuccessful attempts to recover, but has not managed to reach a level of 117.25. The 2-week absence of important macroeconomic data on Japan and the US decreased trading volumes, as investors focused on European leaps.
Yesterday, all major currencies consolidated against the dollar, but the USD/JPY showed almost no reaction to the weakening of the dollar. Tonight there was published information on retail sales in Japan. Contrary to favourable forecasts, the index lowered to a level of 0,2%.
The US labour market statistics are worth attention today. Tomorrow, consumer price and industrial production indexes will be released in Japan. If the information confirms favourable forecasts, the pair may drop to a key support level of 116.00.
Support and resistance
Apparently, yen consolidation will be temporary as the main tendency remains ascending. In the medium term, the pair will grow to the levels 120.25 and 121.00.
Support levels: 117.25, 117.00, 116.10, 116.00, 115.50.
Resistance levels: 118.00, 118.80, 119.00 119.50, 119.90, 120.25, 121.00.
Trading tips
Increase long positions and open pending long positions from the levels 117.25, 117.00, 116.00 with profit fixing at 120.25.
Dmitry Likhachev
Analyst at LiteForex Investment Limited
Publication source
---
LiteForex information
LiteForex reviews
December 7, 2016
The oil price fell for the first time in 4 days today as skepticism creeped in over some OPEC member's commitment to keep to their end of the deal and cut production...
---
December 6, 2016
The prices extend gains after OPEC's output cut deal brings short-term optimism. Forward market shows that the US oil producers are rushing to lock the profit, selling oil contracts for above $50 a barrel at the start of 2018...
---
December 5, 2016
The Italian referendum on constitutional reform saw voters reject the proposals in front of them, in a fairly decisive manner. As such, Italian PM Renzi will tender his resignation today and this became part of the issue...
---